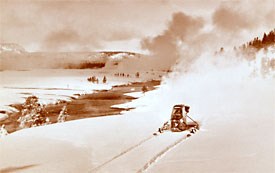 When the first motorized, oversnow vehicles began coming to Yellowstone National Park in the mid-20th century, they entered a winter wonderland virtually without people for the park's first 75 years. Until those early snowplanes, snowcats, snowcoaches and snowmobiles arrived, handfuls of hardy winter park keepers and visitors on snowshoes and skis were the only human presence.
The opening of America's first national park to more convenient winter visitation was a sensation—and, eventually, a controversy. Suddenly, many more people could experience the magic of Yellowstone in its most extraordinary season. The growth of mass access to the park in winter came with trade-offs. The early machines were noisier and smokier than today's snowmobiles and snowcoaches. In those early years, however, the number of snow vehicles was so few—and the novelty and opportunity of visiting a "new" winter destination were so great—that the drawbacks appeared minor to most.
Another access alternative—plowing some or all of the park roads in winter—had been promoted by Yellowstone's neighbor communities and other advocates since the 1930s. But park managers felt that option was not desirable or practical when compared with the growing popularity of snowmobiles and coaches. Yellowstone in winter was a different place—and this was a different way to visit it than in summer.