Fisheries & Aquatic Sciences Program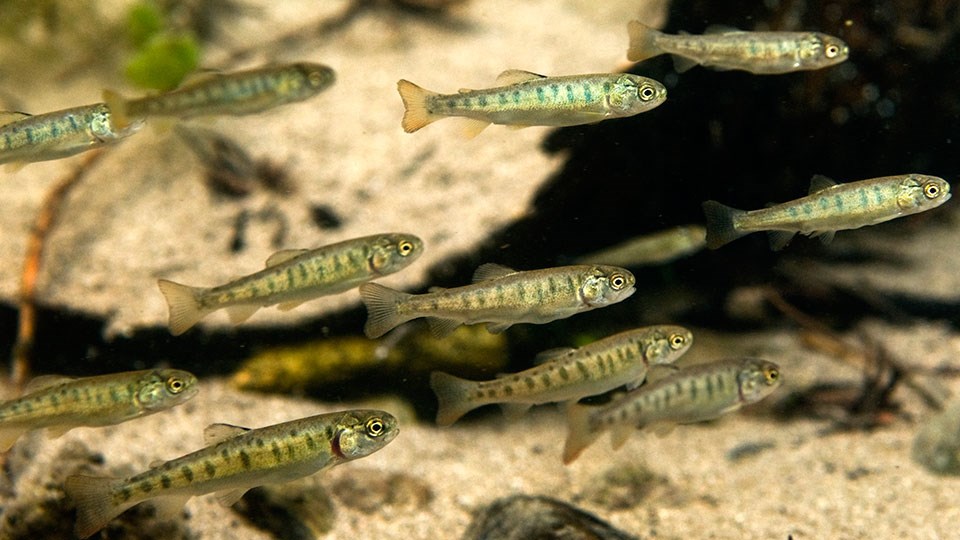 Over the past decade, the aquatic resources of Yellowstone National Park, and the ecosystems they support, have become seriously threatened by introductions of non-native (from elsewhere in North America) and exotic (from another continent) species.
For the foreseeable future, the Fisheries & Aquatic Sciences Program will focus the greatest amount of effort possible on conducting activities that are aimed at supporting its two main priorities:
Preservation of Yellowstone Lake cutthroat trout, which is the largest remaining concentration of inland cutthroat trout in the world
Restoration of fluvial populations of native trout, many of which have been lost due to introductions of non-native species.
The specific activity currently conducted to preserve Yellowstone Lake cutthroat trout is the lake trout suppression program, which is one of the largest non-native fish removal programs occurring in the United States. Activities related to the restoration of fluvial populations of native trout include the westslope cutthroat trout restoration in the East Fork Specimen Creek watershed. Also, prioritization of streams based on their potential for restoration success has been completed and will allow us to move forward with planning for restoration of Yellowstone cutthroat trout in streams of the park's Northern Range.
Most of the activities related to restoration of fluvial populations of native trout are financially supported by the Fisheries Fund Initiative of Yellowstone Forever, a non-profit organization whose mission is to fund projects and programs that protect, preserve and enhance Yellowstone National Park.
Aquatic Ecology of Yellowstone
Native vs. Nonnative Fishes in Yellowstone
Yellowstone has 13 fish native to its lakes and streams. Native sport fish include three subspecies of cutthroat trout, fluvial arctic grayling, and mountain whitefish. Non-native fish species that were introduced to the park in the late 19th and early 20th centuries include rainbow trout, brown trout, brook trout, and lake trout. Although non-native trout are also important to the angler experience in Yellowstone, they have contributed to a decline in the park's native cutthroat trout and fluvial arctic grayling, especially recently.
Current Status of Native Species
The ranges and densities of the park's 11 native fish species have been substantially altered during the past century due to exploitation, introduction of nonnative and exotic species, and natural factors. Non-native species in the park include rainbow trout, brown trout, brook trout, lake trout, and lake chub. Despite changes in species composition and distribution, large-scale habitat degradation—such as water diversions or water pollution—has not occurred in the park.
Maintaining Cutthroat Trout Genetics
Native cutthroat trout are the most ecologically important fish of the park and the most highly regarded by visiting anglers. Nonnative rainbow trout compete with the native cutthroat trout for food and habitat resources, and, even worse, interbreed with native fish, producing hybrids. Once this occurs, the cutthroat population is forever damaged, and cannot be restored without immense expense and a complete removal of the entire fish community from the stream. To reduce the level of hybridization in the park's cutthroat trout waters, anglers are encouraged to harvest rainbow trout. By working together, we can help to ensure that genetically pure cutthroat trout will persist for future generations to enjoy!
Ecological Integrity
In Yellowstone, bald eagles, ospreys, pelicans, otters, grizzly bears, and other wildlife take precedence over humans in utilizing fish as food. Fishing management and regulations reflect this priority and that of maintaining fish populations that have sufficient number of spawning adults to maintain natural reproduction and genetic diversity. Because of the increasing number of anglers in the park, more restrictive regulations have been adopted in Yellowstone. These restrictions include season opening and closing dates, restrictive use of bait, catch-and-release only for native fish, and number/size limits for nonnative species. Some waters are closed to fishing to protect threatened and endangered species, sensitive nesting birds, and to provide scenic viewing areas for visitors seeking undisturbed wildlife.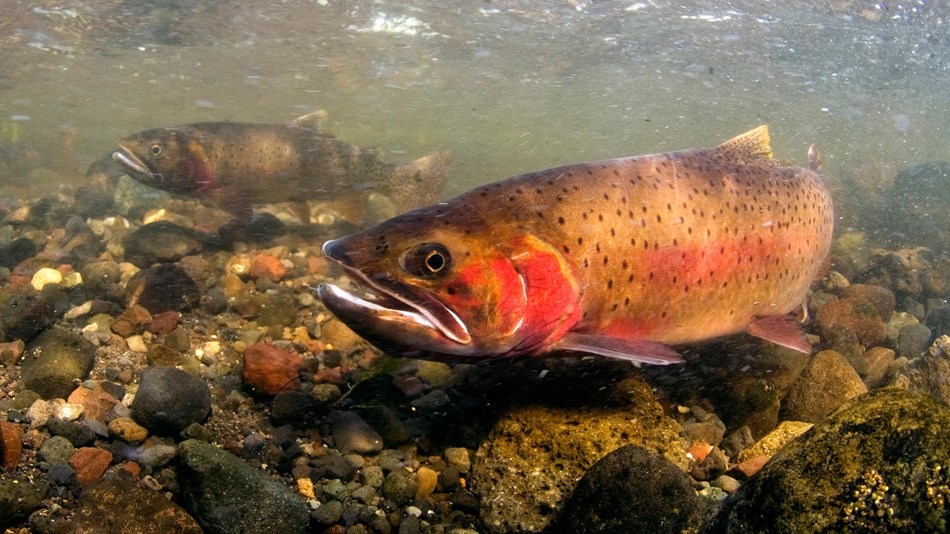 Fish and Aquatic Species
Native fish underpin natural food webs and have great local economic significance.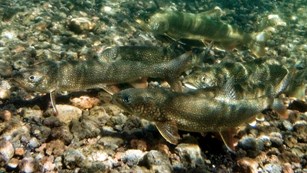 Yellowstone Fish Reports
Delve into the science being conducted to understand Yellowstone fish and aquatic species.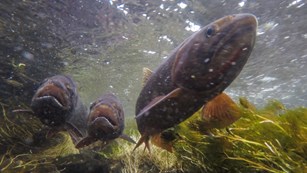 Preparing For Restoration
Part of the fish restoration process is the removal of non-native fish from the recovery area.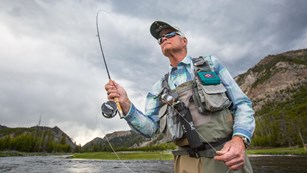 Fishing
Cast your line for 16 species of fish.
History of Fisheries Management
Created in 1872, Yellowstone National Park was, for several years, the only wildland under active federal management. Early visitors fished and hunted for subsistence, as there were almost no visitor services. At the time, fishes of the park were viewed as resources to be used by sport anglers and provide park visitors with fresh meals. Fish-eating wildlife, such as bears, ospreys, otters, and pelicans, were regarded as a nuisance, and many were destroyed as a result.
To supplement fishing and to counteract "destructive" consumption by wildlife, a fish"planting" program was established in Yellowstone. Early park superintendents noted the vast fishless waters of the park and asked the U.S. Fish Commission to "see that all waters are stocked so that the pleasure seeker can enjoy fine fishing within a few rods of any hotel or camp" (Boutelle 1889). The first fishes from outside the park were planted in 1889–1890, and included brook trout (Salvelinus fontinalis) in the upper Firehole River, rainbow trout (Oncorhynchus mykiss) in the upper Gibbon River, and brown trout (Salmo trutta) and lake trout (Salvelinus namaycush) in Lewis and Shoshone lakes. The harvest-oriented fish management program accounted for the planting of more than 310 million native and non-native fish in Yellowstone between 1881 and 1955. In addition, from 1889 to 1956, some 818 million eggs were stripped from Yellowstone trout and shipped to locations throughout the United States.
Largely due to these activities and the popularity of Yellowstone's fisheries, recreational angling became a long-term, accepted activity in national parks throughout the country. In Yellowstone, fisheries management, as the term is understood today, began with the U.S. Army, and was assumed by the National Park Service in 1916. Fish stocking, data gathering, and other monitoring activities began with the U.S. Fish Commission in 1889, were continued by the U.S. Fish and Wildlife Service until 1996, and have been the responsibility of the National Park Service since then.
Approximately 48% of Yellowstone's waters were once fishless, and the stocking of non-native fishes by park managers has had profound ecological consequences. The more serious of these include displacement of intolerant natives such as westslope cutthroat trout (O. clarki lewisi) and Arctic grayling (Thymallus arcticus), hybridization of Yellowstone (O. c. bouvieri) and westslope cutthroat trout with each other and with non-native rainbow trout, and, most recently, predation of Yellowstone cutthroat trout by non-native lake trout. Over the years, management policies of the National Park Service have drastically changed to reflect new ecological insights. Subsistence use and harvest orientation once guided fisheries management. Now, maintenance of natural biotic associations or, where possible, restoration to pre-Euro-American conditions have emerged as primary goals. Eighteen fish species or subspecies currently are known to exist in Yellowstone National Park; 13 of these are considered native (they were known to exist in park waters prior to Euro-American settlement), and five are introduced (non-native or exotic).
A perceived conflict exists in the National Park Service mandate to protect and preserve pristine natural systems and also provide for use and enjoyment. However, fisheries management efforts in Yellowstone are currently focused on preservation of native species, while allowing for use of these fisheries by visiting anglers through a complete catch-and-release regulation. Because the primary mission of Yellowstone's Fisheries and Aquatic Sciences Program is the preservation of natural ecosystems and ecosystem processes, the program does not emphasize maintenance of established non-native fish stocks. In fact, harvest regulations recently have been liberalized, and anglers are encouraged to keep non-native trout caught in waters where they co-exist and are causing harm to native cutthroat trout or Arctic grayling. Fisheries Program activities almost exclusively focused on the preservation of Yellowstone Lake cutthroat trout, the restoration of fluvial populations of native trout, and research and monitoring to support these critical activities.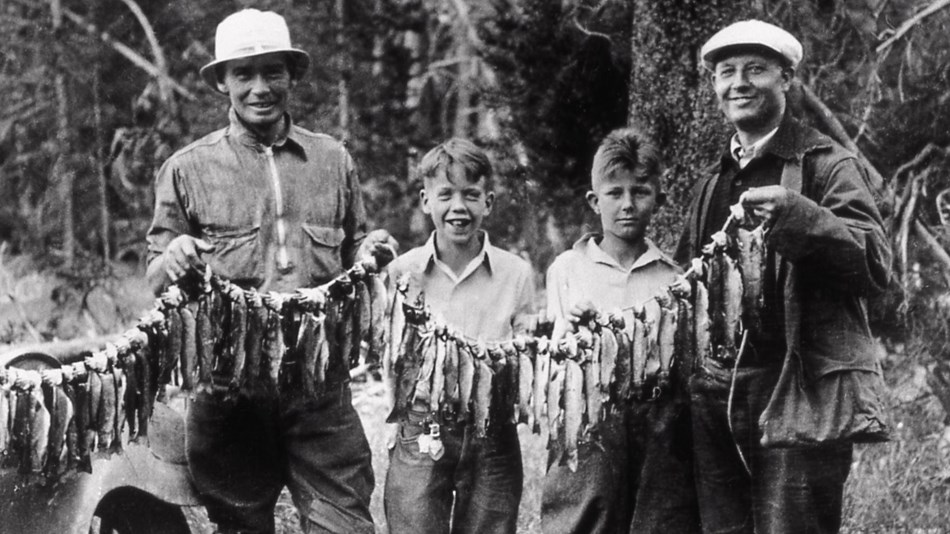 Yellowstone Lake Fish Hatchery
Fishing has a long history in Yellowstone. The Lake Fish Hatchery produced trout that were used to stock waters in the park and elsewhere.
Locations
The Fisheries and Aquatic Sciences Program is within the Branch of Natural Resources, Yellowstone Center for Resources, Yellowstone National Park.Year-round facilities include office space within the historic Cavalry Troop Barracks building at park headquarters at Mammoth Hot Springs.
Seasonally (May–October), fisheries operations are centered at the historical Lake Fish Hatchery District within the park interior, on the northern side of Yellowstone Lake. Although cutthroat trout egg-taking and hatchery operations were discontinued in 1956, the buildings remain a center of contemporary fisheries management activities, particularly those related to the preservation of Yellowstone Lake cutthroat trout. Program facilities at Lake now include offices, a water quality laboratory, shop and garage area, gill net storage space, and housing for staff. Boats are moored at Bridge Bay Marina.
Program staff have expertise in cutthroat trout conservation through applied research; monitoring; removal of introduced, nonnative and exotic species; and cutthroat trout reintroductions into restored habitats. Staff also have expertise in the long term monitoring of aquatic macroinvertebrates, amphibians, and water quality as indicators of ecosystem health.
Contact Information
307-344-2874 (phone)
307-344-2211 (fax)

Fisheries and Aquatic Sciences Program
PO Box 168
Yellowstone National Park, Wyoming 82190
Physical Address (Mammoth)
Fisheries and Aquatic Sciences Program
Mammoth Hot Springs, Building #27
Yellowstone National Park, Wyoming 82190
Physical Address (Lake)
Fisheries and Aquatic Sciences Program
Lake Station, Building #1
Yellowstone National Park, Wyoming 82190
Last updated: April 28, 2017