Application Process and Insurance Needs
Submitting an Application
Application packets must be submitted for new applicants and current CUA holders on a yearly basis. Applications must be submitted 45 days prior to operating in the park. Applicants must submit a complete application packet, which includes the following documents:
Service-based CUAs require a service-based CUA application. Activity-based CUAs require an activity-based CUA application. You may submit one application under each category for all activities you are applying for in that category (activity-based and service-based).
Signed operating plan for the activity you are applying for
Application fee receipt from Pay.gov (All application fee payments must be submitted through this website)
CUA application questions (Only required if you are requesting a new CUA activity)
Auto insurance certificate (Required if you transport clients in your vehicle within the park or utilize a vehicle in the performance of your CUA within the park)
General liability insurance certificate (Required for all CUA holders)
Risk acknowledgement form (If you require you clients to sign one; you cannot require clients sign a waiver of liability)
Advertising materials and/or website information (If used)
Incomplete application packets will not be processed until all required documents are received. Current insurance certificates must be submitted with your application packet.
Applications must be submitted electronically to yell_cua_admins@nps.gov.
Insurance Requirements for CUA Holders
Commercial General Liability Insurance
All CUA holders are required to maintain comprehensive general liability coverage in the amount of $500,000 minimum per occurrence.
Commercial Automobile Liability Coverage
In addition to general liability coverage, the CUA holder must also maintain commercial automobile liability coverage for all owned, non-owned, and hired vehicles used to carry clients within the park for a trip under the CUA or if you utilize a vehicle in the performance of your CUA within the park. The minimum amount of commercial automobile liability coverage required is based on the number of passengers a vehicle was originally manufactured to carry and is shown in the chart below. The policy shall be underwritten by a United States company and must list the following address as an additional insured party:
United States of America
PO Box 168
Yellowstone National Park, Wyoming 82190
Commercial Automobile Liability Insurance Requirements
Number of Passengers Vehicle was Manufactured to Carry
(bodily injury and property damage)
Minimum Required Coverage per Occurrence Liability Limits
Up to 6 passengers
$1,000,000
6–15 passengers
$1,500,000
16–25 passengers
$3,000,000
26+ passengers
$5,000,000
Submission Process
Once we have reviewed your application packet we will send your approved CUA form and operating plan for your signature or inform you if there is additional information we require via the email address listed on the application.
You will then need to sign and return the CUA forms and operating plans to yell_cua_admins@nps.gov. Your CUA is not final until you return the signed paperwork.
Complete a Guide Card Request Form and email to yell_cua_admins@nps.gov. Do not submit copies of CPR certification cards or driver's licenses.
Guide cards will be sent to the CUA holder when all required documents have been received. Additions or changes to the guides list may be emailed to yell_cua_admins@nps.gov throughout the year. Once you receive your guide cards, you are authorized to enter the park to provide tours.
Guides who are guiding trips or training will be allowed to enter the park by showing either a digital copy or printed copy of their guide card at the entrance station, they will not be required to pay an entrance fee for themselves. Clients will be required to pay entrance fees or they may use passes to cover the fee (senior pass, annual pass, and so forth).
When arriving at the entry station, please have the following items/information ready to provide to the entrance station employee:

Number of clients entering the park
Number of clients over 16
Guide card
Payment/passes to use for entry fees
Contact Us
If you have any questions regarding the CUA application process or requirements, please contact the Concessions Management Office at 307-344-2271 or yell_cua_admins@nps.gov.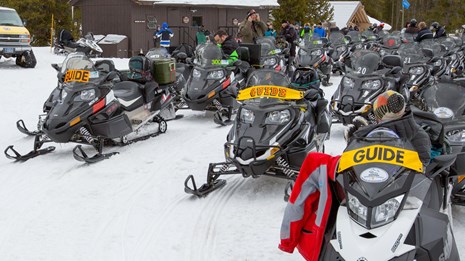 Commercial Use Authorizations (CUAs)
The National Park Service requires specific authorizations for commercial businesses to operate in national parks.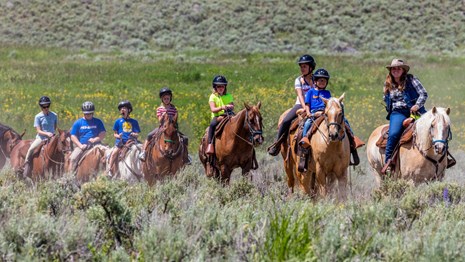 Resources for Commercial Guides
Download or review resources for anyone who may routinely work with visitors to Yellowstone National Park.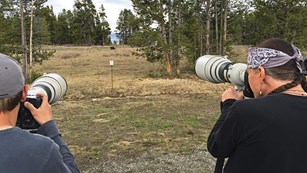 Activity-based CUAs
These include biking, environmental education, tours, boating, skiing and snowshoeing, overnight backcountry, art workshops, and fishing.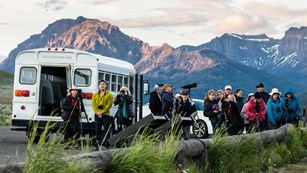 Road-based Tours
Traveling by vehicle on an itinerary that someone has packaged and sold for leisure purposes and provide no other services.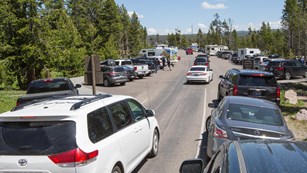 Service-based CUAs
These include towing, tire repair, RV and RV appliance repair, locksmith, and water access.
Last updated: April 28, 2021