150 Years of Yellowstone Press Kit
Key Messages
150 Years of Yellowstone
March 1, 2022, is the 150th anniversary of Yellowstone National Park, the world's first national park.
During the six-month (March-August) commemoration, the park and partners will:
Reflect on 150 years of protecting Yellowstone National Park.
Highlight successes in the ecosystem.
Open dialogue on the lessons learned from yesterday, the challenges of today, and a vision for tomorrow.
As we commemorate 150 Years of Yellowstone, our intent is to be reflective, intentional, inclusive, impactful, and forward-thinking.
Out of concern for COVID-19, scheduled activites may change. During the multi-month commemoration, the park and partners will focus on stewards of Yellowstone, conservation and historic preservation, visitor experience, infrastructure, and Tribal Nation and partner engagement via social media, a virtual video series, and a range of activities.
Visit go.nps.gov/Yellowstone150 and follow #Yellowstone150 frequently in 2022 to stay current on commemoration information.
Tribal Nations Engagement
150 Years of Yellowstone is not only about Yellowstone as a national park but also a pivotal opportunity to listen to and work more closely with the 27 associated Tribal Nations connected to Yellowstone to better honor their significantly important cultures and heritage in this area. This engagement will help set a stronger foundation for collaboration well into the future.
The park has conducted substantial outreach to Native American Tribes, inviting them to participate directly in this anniversary.
Multiple Tribal Nations will be present throughout the summer at Old Faithful as part of the Yellowstone Tribal Heritage Center pilot project.
Tribes are also coordinating with Yellowstone to install a large teepee village in the park near the Roosevelt Arch in August, where Tribal members will interact directly with visitors about their cultures and heritage.
Stewardship
During the 150th anniversary and beyond, we expect visitors to Yellowstone to respect and protect this extraordinary place. Recreate responsibly and take the Yellowstone Pledge!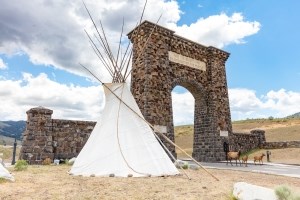 Tribal Nations and Partner Engagement
The park is working to engage with associated Tribal Nations around actions to expand Tribal presence and representation of their important cultural heritage in the park during the 150th anniversary and beyond.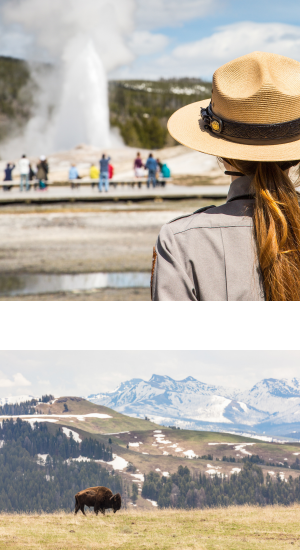 Stewards of Yellowstone
From the military to park ranger with many hats to reaching future stewards, past, present, and future employees all share one goal: "To preserve and protect for the enjoyment for future generations."
Conservation and Historic Preservation
Bison: Yellowstone is the only place in the U.S. where bison have lived continuously since prehistoric times. From near extinction to recovery to brucellosis to the Bison Conservation Transfer Program, Yellowstone is committed to managing a healthy population, reducing the number of animals shipped to slaughter, returning bison to the lands they once roamed and reconnecting them to American Indian Tribes. This is history in the making and the right thing to do.

Climate Change: One of the greatest threats to Yellowstone today is climate change.
Fort Yellowstone: The park is rehabilitating the exteriors of 16 buildings located within the historic Fort Yellowstone area, where structures remain from the 1890s and early 1900s when the U.S. Army administered the park. Fort Yellowstone is also listed as a National Historic Landmark District, the highest designation.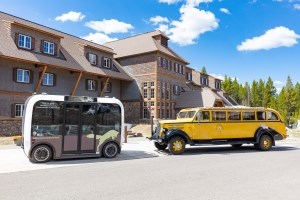 Visitor Experience
We have a large problem in less than 1% of the park. Never in Yellowstone's history have we seen such substantial visitation increases in such a short amount of time. We will continue working with our teams and partners to develop and implement short- and long-term actions for managing increasing visitation across the park.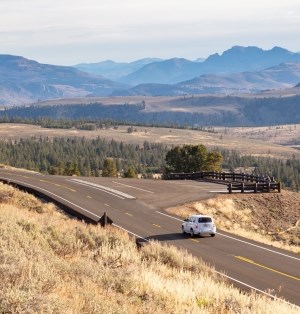 Infrastructure
Housing: Our ability to attract and retain talent in Yellowstone is strongly tied to the availability and affordability of housing options in and around the park. We have started a major, multimillion-dollar housing improvement effort that will substantially upgrade employee housing across the park.
Transportation: From stagecoach to cars to AV shuttles and other innovative transportation methods, Yellowstone's future is bright thanks in part to GAOA funding to improve roads and bridges. In 2022, Dunraven Pass will open, and construction will begin on the Yellowstone River Bridge, Lewis River Bridge, and Grand Loop Road between Old Faithful and West Thumb.
Yellowstone National Park closely monitors and responds to the COVID-19 pandemic. To prevent the spread of COVID-19, the park may modify in-person activities as needed. Updates will be added to activity descriptions on go.nps.gov/Yellowstone150.
Check go.nps.gov/Yellowstone150 for information on both virtual and in-person activities. Think of ways you can be good stewards, not only of Yellowstone, but also in your own backyard. If you plan to visit Yellowstone in person, recreate responsibly and take the Yellowstone Pledge!
Contact the Yellowstone Public Affairs Office at yell_public_affairs@nps.gov.
Yes! Stop by a park visitor center or information station to get a 150th anniversary stamp.
---
Social Media
Follow us on social media and by using the hashtag #Yellowstone150.


---
Contact
If you need additional information about 150 Years of Yellowstone, please contact yell_public_affairs@nps.gov.
Learn About Yellowstone
Park Facts

Learn everything from how large Yellowstone is to how many mammals live in the park.

Plan Your Visit

Yellowstone is seasonal. Plan your visit by learning about current conditions, seasons, road conditions, services, activities, and more.

Take the Yellowstone Pledge

Help us protect the park by taking the Yellowstone Pledge and learn how to put the pledge into action!
Last updated: April 25, 2022