Wupatki Pueblo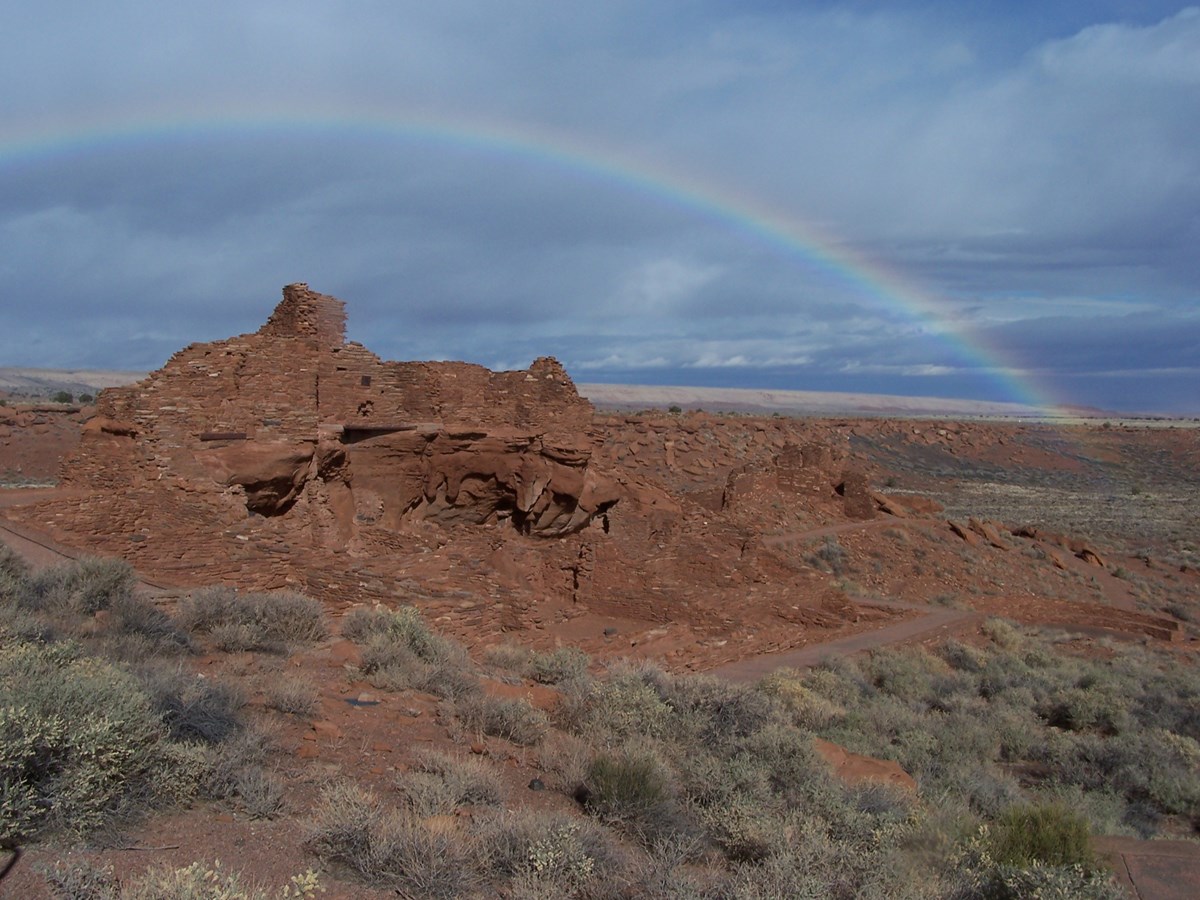 Location Behind the Wupatki Visitor Center
Distance 0.5 mile (0.8 km) round-trip
Time average 30 minutes
Difficulty Easy to Moderate
Accessibility Access to the trail is paved and rated accessible to the overlook. The remainder of the trail surface is stroller and wheelchair friendly. Steps can be avoided by going counterclockwise on the trail loop.
Highlights
A 900 year old ancestral Puebloan site with over 100 rooms
an above ground Kiva or community room
a Hohokam Style Ballcourt
a geologic feature called a blow hole where air flows in and out from the ground
Scenic views of the Painted Desert and surrounding landscape
Cultural and Historical Importance
People gathered here during the 1100s, about 100 years after the eruption of Sunset Crater Volcano, gradually building this 100-room pueblo with a community room and ballcourt. By 1182, perhaps 85 to 100 people lived at Wupatki Pueblo, the largest building for at least fifty miles. Within a day's walk, a population of several thousand surrounded Wupatki.

Although it is no longer physically occupied, Hopi believe the people who lived and died here remain as spiritual guardians. Stories of Wupatki are passed on among Hopi, Zuni, Navajo, and perhaps other tribes. Members of the Hopi Bear, Sand, Lizard, Rattlesnake, Water, Snow, and Katsina Clans return periodically to enrich their personal understanding of their clan history. Wupatki is remembered and cared for, not abandoned.

Preservation
Wupatki is partially reconstructed from work done in the early to mid-1900s. Some original walls and roof beams can still be seen and many or the rooms remain unexcavated. Current preservation invloves annual stabilization of walls, condition monitoring of both the pueblo structure and the surrounding hillsides, invasive plant removal, and trail maintenance.

Thank you for helping us protect this important heritage site by not climbing on walls, leaving all natural and cultural items in their place, and staying on designated trails.


Last updated: August 1, 2020