Lomaki and Box Canyon Pueblos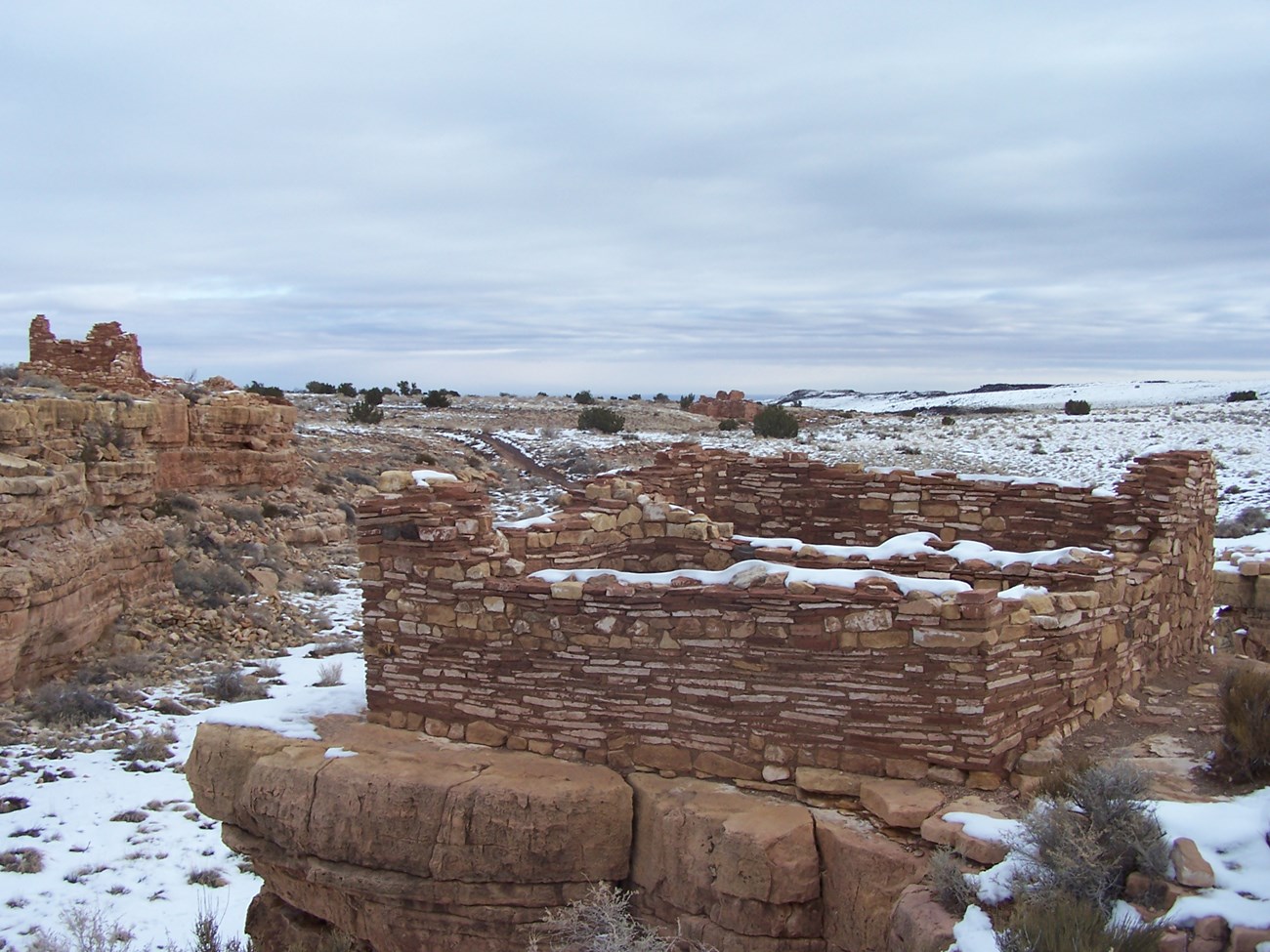 Location
4 mile drive from the northern entrance of Wupatki off Hwy89, 10 mile drive from the Wupatki Visitor Center
Distance 0.5 mile (0.8 km) round-trip
Time average 30 minutes
Difficulty Easy to Moderate
Accessibility The current trail is not accessible and has a gravel surface. A project is currently underway to create an accessible trail.
Highlights
Three 900+ year old ancestral Puebloan structures made out of mostly limestone.

A small Box canyon and earth crack

Views of the surrounding cinder hills and San Francisco Peaks

Permian age fossils of gastropods and molluscs seen in the limestone rocks next to the pueblos.
Thank you for helping us protect this important heritage site by not climbing on walls, leaving all natural and cultural items in their place, and staying on designated trails.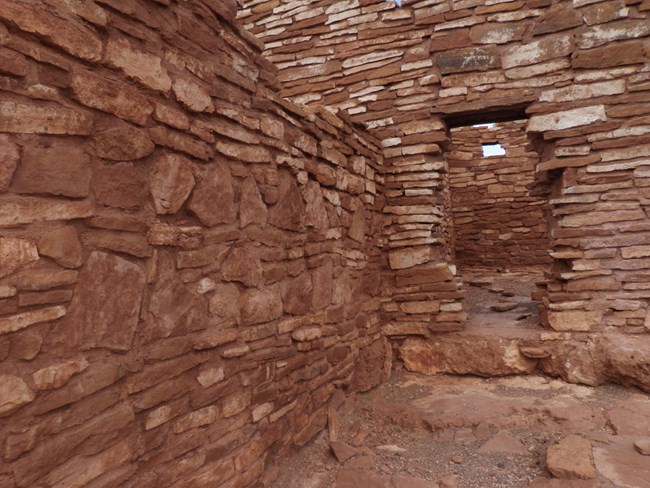 Cultural and Historical Importance
Lomaki means "Beautiful House" in the Hopi language. Located at the end of this trail it had nine rooms constructed from local limestone and sandstone in the last decade of the 1100s. Both the interior and exterior walls may have been coated with plaster, though none of the coating remains today.
Although this area does not look like farmland today, the inhabitants of Lomaki were skilled dry farmers who probably used techniques similar to what contemporary Hopi people use today. Fields were located on the flat mesa tops, in washes, and on terraced hillsides. The presence of just a few inches of black cinders created a mulch layer which helped hold moisture.
The two smaller structures on either side of the earth crack may have housed extended family of the people living in Lomaki. These dwellings are only a few of dozens surrounding both Lomaki and Citadel. With a keen eye you can spot other walls on top of nearby mesas. At one time this was a thriving community who traded with other communities for hundreds of miles.
Although it is no longer physically occupied, Hopi believe the people who lived and died here remain as spiritual guardians. These places are remembered and cared for, not abandoned.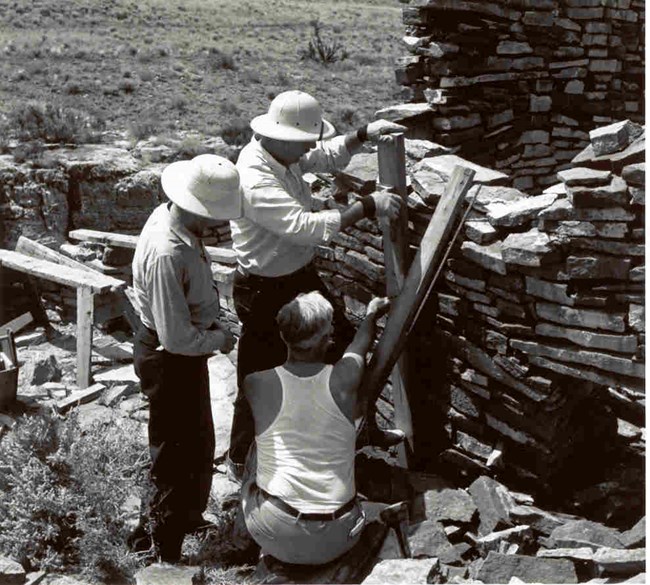 Preservation
The Lomaki and Box Canyon pueblos have undergone several stabilization projects over the years, starting in the early 1930s. Even though reconstruction was common during this time, efforts concentrated on stabilization of existing walls to prevent future damage. Excavations of these sites have also been minimal.
In October 1955, archeologist Roland Richert conducted a comprehensive stabilization project of the Box Canyon Pueblos. Work included repointing of eroded mortar joints, re-setting capstones and "capping" the wall tops, and clearing away stone rubble that was causing walls to lean and nearing collapse. All repointing, resetting and capwork was done with cement, tinted with buff and orange colors to match the original mortar. This work was then concealed over with a soil mortar that was obtained from the mesa top, near the structure.
Use of cement in archeological preservation and reconstruction of pueblos was common during this time but is no longer used. Over time the salts and other chemicals in the cement cause damage to the wall stones and prevent water from moving through to evaporate. Current techniques use a mortar mixture similar to the original materials used by ancestral Puebloan people made with cinders and local soils.
The largest historical stabilization efforts of Lomaki Pueblo were conducted in 1941 and 1954. Several wood supports were installed in the first project but were no longer effective and were replaced by hidden metal supports in 1954.
Current preservation includes annual inspections of all pueblo walls, repointing of mortar when necessary, covering of fragile pueblo floors with geotextiles and backfill dirt and monitoring of visitor impacts.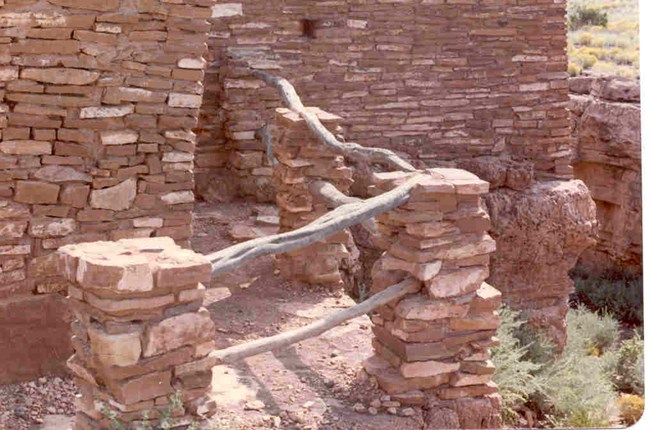 Management of Human Impact
The National Park Service is always working to maintain a balance of visitor enjoyment and protection of park resources. The ways in which this is accomplished has evolved over the history of the agency and within Wupatki National Monument. At one point, wooden guardrails with stone corners were common in order to keep visitor on designated trails.
These guardrails no longer exist at Lomaki or anywhere within the monument. While visitors are still limited to travel on designated trails, physical barriers have been replaced by education and thoughtfully placed signage.
One factor in this decision was the preservation of what is called a cultural landscape. In other words, an attempt has been made to create a visual experience that is as authentic and free of modern impediments as possible.
Last updated: August 30, 2020