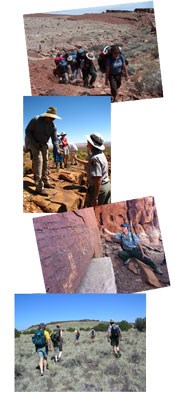 Come Hike With Us ....
Wupatki National Monument offers a variety of guided hikes from October through April. These hikes range from moderate to very strenuous, and can last anywhere from two hours to two days. Come experience all that Wupatki has to offer.
Guided hikes provide the only public access to many areas of the monument. These areas are home to a rich cultural and biological landscape. In order to preserve these sensitive areas, hikes are limited in size and follow strict Leave No Trace principles. GPS devices are not permitted. Reservations are required for all guided hikes.
Crack in Rock hikes are very strenuous two day hikes that explore deep into the Wupatki back country. Discovery Hikes are short day hikes offered on some Saturdays from November through March. Frequency of hikes will vary depending on available staffing. There is an additional fee for some of the hikes.
Looking to explore, but not interested in a guided tour? Check out the neighboring Coconino National Forest.