Wrangell-St. Elias River Crossings

Most backcountry routes in Wrangell-St. Elias require numerous creek and river crossings. Bridges and log crossings are virtually non-existent. These crossings can be VERY dangerous without preparation, patience, and planning. Hikers must be familiar with safe techniques for crossing rivers and streams. Many are impassable, even for experts. Other can change quickly from trickling creeks to raging torrents, so be especially cautious.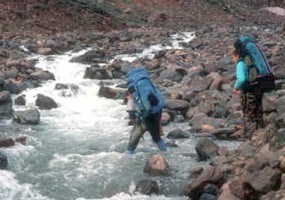 The water volume, clarity and velocity may vary drastically according to season, time of day and upstream weather conditions. On warm days, melting snow and glacial ice can swell streams that were easily crossed in the morning to flood stage by mid-afternoon. In glaciated areas, hotter, sunny days cause higher volume in the streams due to the ice melt (geologists call this diurnal flux). Voluminous, warm rain is also a contributing factor. Safe footing is difficult to obtain: silty water obscures channel bottoms while clear water allows for slippery algal growth. Icy water numbs feet quickly and even shallow streams are surprisingly swift when flowing down steep inclines. This combination of factors makes stream crossings one of the most hazardous parts of any backcountry experience.
Keep these points in mind when crossing water channels:
Choose the safest TIME to cross:


Cross early in the day whenever possible;
Be aware of storms in the area, cross before storms whenever possible.



Choose the safest PLACE and METHOD to cross:


The widest or most braided portion of the channel is usually the most shallow.

Straight channels usually exhibit uniform flow while bends often reveal deep cut banks and swift water on the outside edge.

Water has less momentum on level ground than when flowing down an incline.

If hiking solo, use a hiking staff, held upstream, to create a more stable, three point stance. Move only one contact point at a time.

Two or more hikers should cross parallel to the current with the strongest and heaviest member upstream to lessen the force on the other hikers. Walk across with arms linked, or face upstream and sidestep across.

In deep water, the triangle method is safest. Facing each other, three people grip each others shoulders or packs and work their way across one person, one leg, at a time.
Protect your feet:



NEVER cross in bare feet. Wear boots or bring extra shoes for crossings.
Move one foot at a time, sliding it across the bottom.



Prepare to get wet:



Loosen pack straps to expedite removal in the event of a fall.
Have sleeping bag and extra clothing packed tightly in dry bags inside your pack.
Remove pants and socks before crossing (or have spares to insure dry clothes for the other bank).
Wear polypropylene or nylon clothes.
Bulky and knit garments trap glacial silt.
If a crossing seems too risky...it probably is!

ALWAYS BE WILLING TO TURN BACK OR WAIT FOR A MORE SUITABLE TIME IF A CROSSING APPEARS TOO DANGEROUS!


Last updated: April 14, 2015