River Trips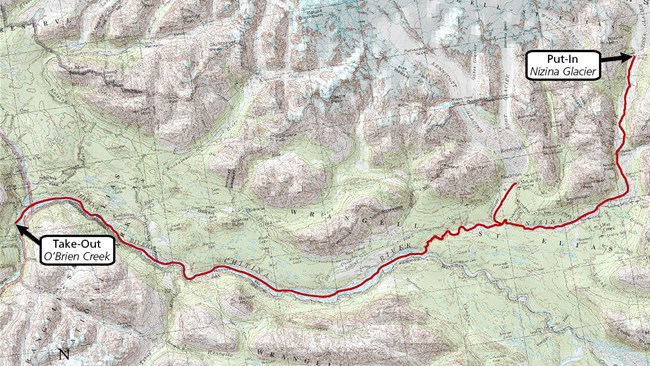 Nizina Glacier to Chitina Float
Access: Amphitheater airstrip at the toe of the Nizina Glacier. The least expensive flights are available through the air-taxis in McCarthy, Alaska.
Distance: Approximately 90 river miles
Time: 4-6 days
Maps: USGS 1:250,000 McCarthy, Valdez
Difficulty: Class III. Knowledge of Alaskan rivers is required, as extensive braiding in channels can be tricky to navigate. Traveling with a guide or guiding company is recommended, however, it is do-able with an independent group.
Float Trip Descriptions
Nizina Glacier to Chitina River Float Trip (pdf format, 901 KB)
About 90 river miles on the Nizina, Kennicott, and Chitina Rivers.
Copper River Float - Chitina to the Million Dollar Bridge (Cordova) (pdf format, 4.1 MB)
About 85 river miles on the Copper River, includes Tazlina to Chitina variation.
We do not have written descriptions for the following float trips. If you want information about these trips, please contact the Wrangell-St. Elias Visitor Center. We will try to put you in contact with a backcountry ranger who has done one of these trips, but you will need to research these trips on your own as well.
Chitina River Float
Hubert's Landing to Chitina

Nabesna River Float
Orange Hill to Northway

Skolai Pass-White River Float


Last updated: February 8, 2018