Mount Sanford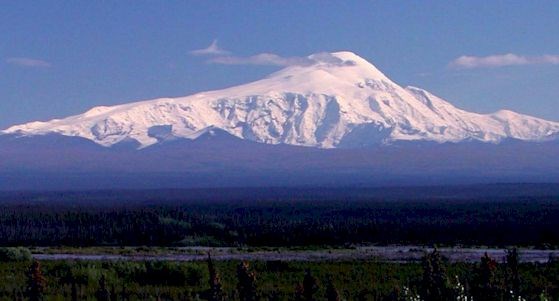 Maps:
USGS Quadrangle Maps- Gulkana (A1), Gulkana (B1), 1:63,360, Gulkana 1:250,000.
Distance: Approximately 35 miles round trip.
Time: 10 - 14 Days.
Elevation Gain: 12,437'
American Alpine Journal Articles (Date/page#):
1939: 265-273 map, 1959: 230, 1967: 347, 1968: 126, 1969: 179, 1971: 333, 1972: 108, 1976: 438, 1978: 518-19, 1980: 531, 1981: 168, 1990: 130, 1994: 123-4
Access:
From Chistochina airstrip at Mile 33 along the Tok Cutoff to the Windy Ridge airstrip, via small aircraft, is approximately 13 miles. Local air taxi operators can provide transportation.
Route:
Climbers are flown from the Chistochina airstrip to the Windy Ridge airstrip (3,800'). From there it is approximately 6 1/2 miles across tundra to the toe of the Sheep Glacier (5,300'). The route continues approximately 11 miles up the Sheep Glacier to the summit.
Potential Hazards:
Bears may be present in the tundra area. Climbers should be prepared for a variety of weather and snow conditions. Crevasse fields are at the 7,000' and the 15,000' elevations. Crevasse danger can exist anywhere along the steep snow areas, especially after storms, depositing heavy snow accumulations. Steep wind slab and sastrugi snow conditions are common about 10,000'. Bad weather, cold temperatures, and strong winds are common on the mountain and have resulted in many unsuccessful climbs. High altitude medical problems can occur during this trip.
Last updated: December 6, 2015