Copper Center Visitor Center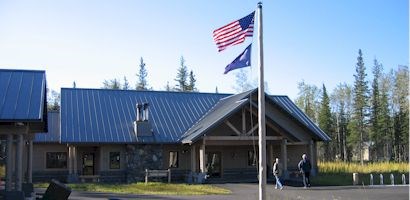 Copper Center Visitor Center Complex
Located 10 miles south from the intersection of the Glenn Highway and the Richardson Highway, the Copper Center Visitor Center Complex is the place to start your visit to the park.
The campus-like setting includes: a visitor center, a bookstore, an exhibit hall, a theater, restrooms, picnic tables and a picnic shelter, an amphitheater, the Ahtna Cultural Center, scenic overlooks and short hiking trails. Also, the park administration and business offices are located nearby.
Feel free to call us at (907) 822-7250 for exact dates since they can fluctuate each season. The visitor center parking lot gate is locked at closing time (6 pm in summer). No overnight parking is permitted.
Operating Hours for Copper Center Visitor Center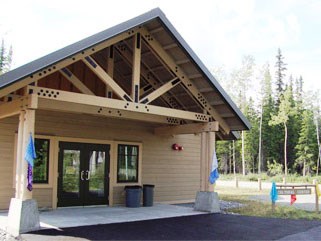 Ahtna Cultural Center
C'ek'aedi Hwnax 'Legacy House'
Located next to the Wrangell-St. Elias Visitor Center
(907) 822-3535
Open in Summer, hours vary

The cultural center is operated by the Ahtna Heritage Foundation. There are exhibits, a hand-built fish wheel on display, and museum staff available to answer questions. Please visit the Ahtna Heritage Foundation website for more information.

Last updated: June 26, 2018