Lesson Plan
Pathways to Discovery – Field Exploration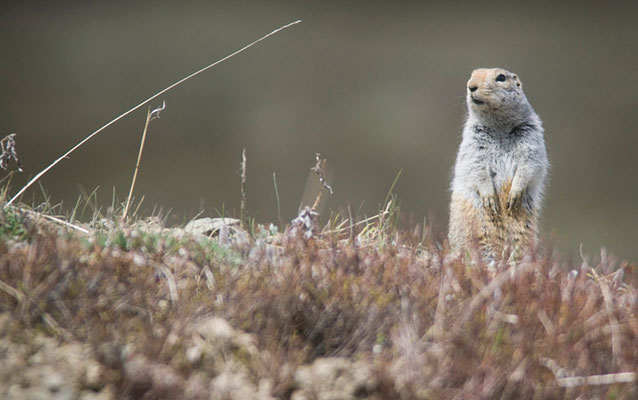 Grade Level:

Second Grade-Fifth Grade

Subject:

Biology: Animals, Biology: Plants, Ecology

National/State Standards:

Alaska State Standards
Science: A12, 14, 15; B1, 2, 3; D1, 2;


Keywords:

habitat, observation, adaptations, interdependence, niche, writing
Overview
Use America's largest national park as a pathway to discovery!
In this lesson, students learn about the types of small creatures that live in a field habitat.
Objective(s)
Using discovery and observation, students will better understand the role of little creatures as they relate to their habitat and other living things.
Background
Explain to the sleuths that they are going to walk to a field habitat. On the way to the forest habitat:  
Have them look for evidence of little creatures as they walk along.


Upon arrival at the habitat study area, gather the group together and share some of the things they found along the way.
Procedure
Tell the sleuths that they are now in the field habitat.  


Ask them to look around and tell what characterizes a field.


Ask them for examples of little creatures that might inhabit that particular habitat. Field: Insects (ants, butterflies, moths, flies) spiders, mice, birds.


Set comfortable boundaries within the habitat area that will provide the sleuths with individual exploring room.  


Show them the field guides and other resource sheets available to the whole group for ID purposes. Let them go to work in the habitat! The students may carefully collect smaller critters (ants, beetles, insects, etc) in the bug boxes. Other creatures like butterflies, mice, moths, etc., can probably be collected in the jars. However, one of the best ways to learn about little creatures is to observe them in their habitat doing what they do.  


During the exploration go from group to group answering questions and reinforcing excitement and curiosity about what they are doing.  


When sleuths have explored and found a little creature about which they are very excited, give them a "case study sheet". Once the students have explored and completed a case study on at least one creature, gather the group together with their little critters and case study sheets.
Assessment
Pass all the creatures around so that everyone can look at each one.  
Ask several detectives to explain one or more of their creature case studies to the rest of the group using the case study sheets as a format.  


Ask each sleuth how they think these creatures affect, or what relationship they have to their environment, the Park, and people. (e.g., are they harmful? Are they helpful? Are they important to us? To others? Why?)



As a group put all of the creatures into several groups according to their individual similarities and differences. Have each sleuth write the group of his or her creature on their case study sheet. Tell the sleuths to carefully return their creatures to where they were found. Found alive, return alive!
Additional Resources
This lesson is part of our "Pathways to Discovery" unit. The individual lessons can be done individually or as a larger unit of learning. They encourage the development of a student's awareness and appreciation of the natural world and people's relationship and role as a part of that natural world.
The lessons are a series of shorter activities that have been blended together under a specific theme with the intent that the activities will be coordinated with units in the existing school curriculum and texts. The materials are organized by grade level, but can actually be adapted for use at any grade level. Check out the
full Pathways to Discovery unit of lessons
, as well as links to other stand-alone lessons like this one.
Last updated: April 14, 2015