Lesson Plan
Pathways to Discovery - Bear Carrying Capacity Game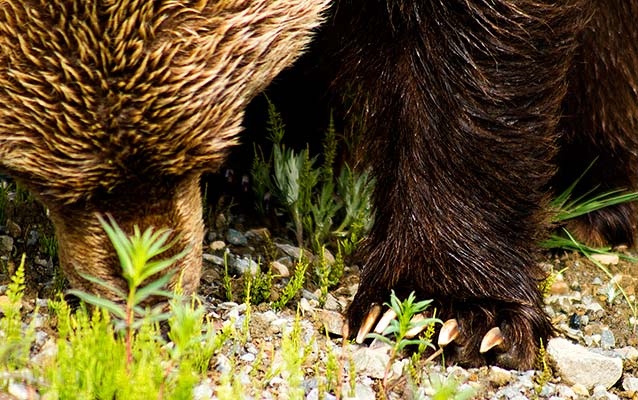 Grade Level:

Second Grade-Fifth Grade

Subject:

Ecology, Wildlife Biology

Duration:

30 minutes

Setting:

outdoors

National/State Standards:

Alaska State Standards
Science: A12, 14, 15; B1, 2, 3; D1, 2;
Mathematics: C1, 2, 3; E2, 3

Keywords:

bears, game
Overview
Use America's largest national park as a pathway to discovery!
In this lesson, students learn about "carrying capacity," the idea that an area can only support a certain amount of wildlife, by playing a game mimicking the life of bears.
Objective(s)
To develop observational skills



To learn to identify and appreciate some wildlife that live in Wrangell-St. Elias National Park and Preserve, as well as their habitat requirements, and their role in the park. 
Background
While outside, look for animal signs and habitats. Explain that there are limitations on the numbers of any species in a given area, such as the Wrangell- St. Elias National Park and Preserve. This is known as the area's carrying capacity. These limitations are often closely related to the amount of food available. In this game students will be bears competing for limited food resources.
Procedure
Scatter the food cards over a 50 X 50 foot area. Have students go to a place they designate as their den. Do not tell the students what the color, initials, and numbers on the cards represent just yet.


Tell them only that the pieces of paper are different kinds of bear food. Since bears are omnivores (like people), they like a wide assortment of foods, so they should gather different colors to represent the variety of food.


Have students collect cards keeping in mind that bears don't run after their food and they must take it back to their den one piece at a time. No bear can steal food from another bear's den. When all the food has been collected the students should bring their cards and sit in a circle.



Ask students about how it felt to be competing for their food. Explain that the numbers on each card represent the amount of energy available from that food source in a given area of bear habitat:
Green cards are grasses and plant leaves
Maroon cards are berries and other fruit
Orange cards are hard mast (e.g., acorns)
Red cards are animal matter
Yellow cards are insects


Have each student add up the points on his or her own cards and explain that it takes 80 pounds per ten-day period to keep a bear alive. If a student does not have 80 pounds of food, what happens to him? (They would either starve, migrate out of the area, or kill and take over another bear's territory.)


Discuss the idea that a given bear habitat can only support a limited number of bears. How many bears in this activity could have survived? The number of bears an area can support is called that area's carrying capacity. The teacher will help the students calculate the carrying capacity by dividing the total number of points obtained by the group collectively by 80 (the number of pounds to keep a bear alive for 10 days). Apply the carrying capacity idea to other animals. (For example, if the carrying capacity in an area for moose is 50, what happens if there are 75 moose?)


Play the game again, but explain to the group that not all bears are equally prepared to survive. Designate some students as having had cubs. These students will have to collect 120 pounds of food to feed themselves and their cubs. Blindfold a student. This bear tried to eat a lynx and was scratched in the eyes. He is now blind. Designate others as old, crippled, injured. Another variation includes having the students "bear walk" on hands and feet to obtain their food.



Discuss the results of this round.
Assessment
Ask the students: 
What are different activities animals undertake in order to meet needs of shelter, food, water, space?


What is the carrying capacity of an area for a certain species?


Do they think most species, not just bears, have a carrying capacity in a specific habitat?


If people destroy forests, build roads, or otherwise disturb the natural checks and balances in nature, will an area be able to provide all the resources for the community of animals that live there, enabling each to reach its carrying capacity in that area? Why or why not?


Does the earth has a carrying capacity for people?
Additional Resources
This lesson is part of our "Pathways to Discovery" unit. The individual lessons can be done individually or as a larger unit of learning. They encourage the development of a student's awareness and appreciation of the natural world and people's relationship and role as a part of that natural world.
The lessons are a series of shorter activities that have been blended together under a specific theme with the intent that the activities will be coordinated with units in the existing school curriculum and texts. The materials are organized by grade level, but can actually be adapted for use at any grade level.
Last updated: April 14, 2015