Hello all, it's the Student Conservation Association interns Eric and Amy! You might be wondering who we are. We have the pleasure of working with Lead Backcountry Ranger Evan Olson and participating in some of the scheduled hiking and river patrols in Wrangell- St. Elias this summer. We've been getting oriented to river safety and packrafting since the start of the season. This week we got our chance to learn more about backpacking patrols when Ranger Olson took us on a 3-day training patrol to Dixie Pass.
The first step of our journey was reaching the trailhead, which is on the Kotsina road, 14.5 miles down the McCarthy Road. The Kotsina Road is a dirt road that became rougher than expected, and we were glad we'd brought a high-clearance vehicle.
When we reached the trailhead, we were greeted by a healthy swarm of mosquitoes. This is common for many backcountry trips in early and mid-summer, and it's a good idea to have repellant in a convenient pocket.
The first few miles of the trail are relatively flat with some moderate hills. The trail has not been brushed recently, and there are some down trees blocking passage. We enjoyed carrying trekking poles for this hike, as they came in handy multiple times along the way.
Along the trail we saw a number of bear digs and scat. These are evidence of bears digging for roots or ground squirrels. Among our other sightings were two rock ptarmigans and lots of moose scat.
The Dixie Pass trail follows Strelna Creek. Our first campsite was on a nice rock bar along the bank of the creek, just below treeline. The next day we climbed above the trees, bushwhacked through plenty of willows, and ended up overlooking Strelna Creek in the valley below.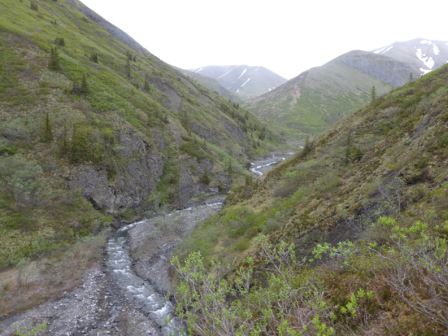 This is Strelna Creek. The Dixie Pass Trail leads across, next to, in and above this mountain creek, following it from the trailhead to the pass.
After the willows and bushwhacking, we came to the tundra of the pass. This area was filled with dense snow which will melt entirely by mid to late summer. Ranger Olson taught us how to kick-step up the snow slope, getting good grip and balance while compressing the snow so our weight would be supported. Finally, we reached the pass and got the view we came for.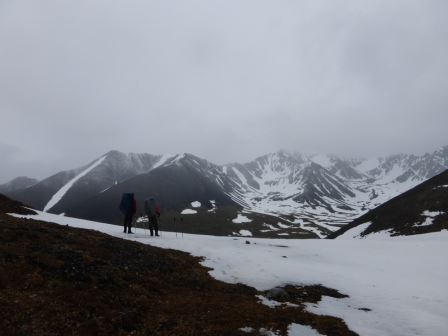 This is the summit of Dixie Pass. Ranger Olson and SCA Eric take in the view as snow squalls billow over the Wrangell Mountains.
Descending the pass was a quite a bit faster than hiking up. Ranger Olson taught us how to plunge step, by digging our heels deep into the snow and letting gravity do the rest. At times, it was even possible to "boot-ski," and we could make cuts and turns just as if we had been wearing skis.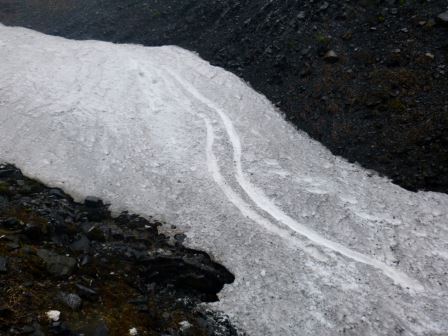 Ranger Olson's "boot skiing" tracks demonstrate it's a lot faster coming down a snow patch than climbing up it.
We followed Strelna Creek back down through the rain and sleet, stopping to eat lunch. Ranger Olson warned of the threats of hypothermia on days like this, and the importance of checking the signs and symptoms of hikers in our group. The weather in Wrangell-St. Elias changes constantly, and hikers should always anticipate and be proactive.
We made camp among the willows once we descended into a wooded area. Here we learned an important lesson about early prevention. A backcountry hiker should always be thinking about how to keep themselves and their things dry. Taking precautions like getting gear under a tent or pack cover is easier than trying to dry out clothing once it's already wet and cold.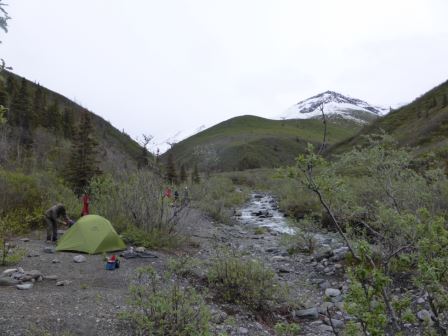 After getting thoroughly wet from precipitation and hiking in the river, we decided to make camp early in the afternoon. We hung out our gear to dry at our second campsite.
On our last day, we packed up and hiked downhill to the trailhead. Ranger Olson taught us a lot about route-finding, backcountry communication, cooking, risk management and other important skills. We now feel enthusiastic and prepared to head out on more patrol trips this summer.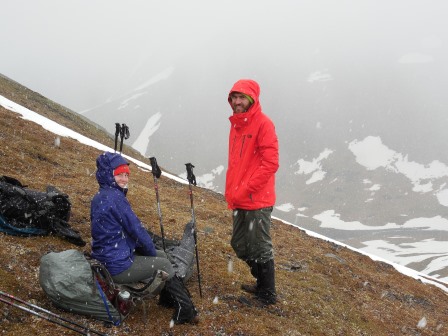 SCA's Eric and Amy enjoying the weather at Dixie Pass. Welcome to Alaska in June!