I recently finished a patrol from near Mt Gordon through the Jacksina Creek drainage and ending just south of Black Mountain.  I completed this patrol with one of our first year rangers.  I enjoy working with rangers that are just starting out with the park.  These patrols give me an opportunity to help train new staff to operate safely in an often unforgiving environment and to share an adventure in one of the wildest places in the national park system.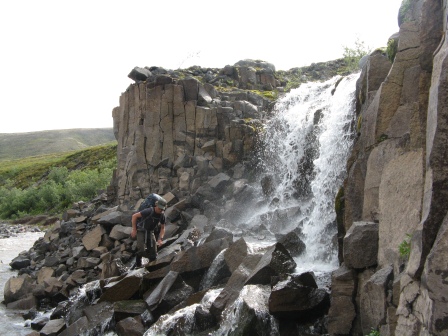 We started the patrol after being dropped off by a small plane on the eastern flank of Mt Gordon.  We hiked up and over the top of Mt Gordon and descended the western side.  The top of Mt Gordon is glaciated and we encountered a few small crevasses, nothing too dangerous but I was glad to have brought along the rope.  Mt Gordon is a modest snow climb that affords outstanding views in all directions, or at least that's what I'm guessing, when we reached the top the clouds moved in and we could not see much of anything.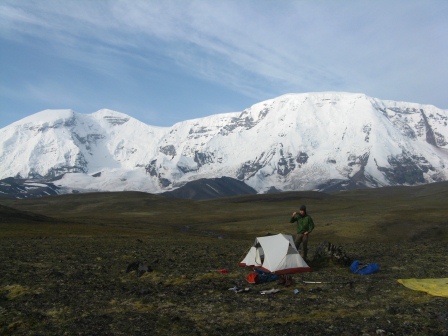 We continued west and dropped down into the Jacksina drainage.  Jacksina Creek was swift and difficult to cross.  We spent an hour or so scouting possible locations to cross before we finally found one that would work.  Our route took us up near the base of Mt Jarvis where we enjoyed fantastic views of this impressive peak from our campsite. 
Sheep hunting season was in full swing as we passed through the high country.  We stopped in at a couple camps but did not find anyone home during the day.  Lots of activity out there though with plane flights and several camps visible from miles away.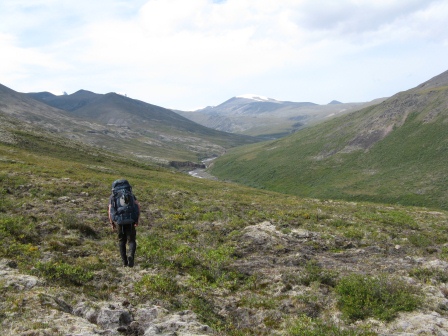 Our route took us through a high mountain pass and then down into the headwaters of the Copper River.  We crossed an interesting divide at this point.  The water that flows down the Jacksina drainage flows into the Nabesna River which flows into the Tanana which flows into the Yukon which flows into the Bering Sea.  Water that flows down the other side of the pass flows into the Copper River which flows down into the Gulf of Alaska.  Quite a difference a few feet on one side of the pass or the other can make.
We finished our hike down to the Copper River and our flight out arrived the following morning.  We had good weather for most of the trip with a couple days of sunshine, a rare treat this season.  If you have any questions about traveling in this area please contact us.