In August park staff and several volunteers completed a raft patrol down the Nizina and Chitina Rivers.  The patrol flew from McCarthy to the Amphitheater airstrip near the lake at the toe of the Nizina Glacier.  The airstrip is about a quarter mile from the lake, so we packed our gear from the strip over to the lake, inflated the boats and put the frames back together.  We loaded up and got on the water that afternoon.  We played bumper cars with a few icebergs floating in the lake before reaching the outlet.
The first few miles of the river were splashy class III.  The river smoothed out as we floated past the Mile High Cliffs.  We found a good place to camp near the confluence with the Chitistone River. 
The next morning we broke camp and continued downstream.  We floated past the remnants of the old Nizina River Bridge.  The supports for the bridge are still standing but the bridge no longer reaches either bank of the river.  Below the bridge the drainage tightens up into a single channel just before the confluence with the Kennicott River. 
Past the confluence with the Kennicott we encountered a fairly large wave that I don't recall from our patrol last year.  The wave is easy to avoid but is a good reminder of the way the rivers constantly change.  We stopped just above the Nizina Canyon and did a quick briefing for the canyon.  We talked about staying close together and what we had seen when we did an overflight of the canyon a few days earlier.  The canyon has a series of S-turns that create large hydraulics on the inside of the turns.  We floated through the canyon without incident. 
The rest of the float down the Chitina River went smoothly.  The weather had been cloudy with light rain which soon turned to steady rain and we were thankful for the large tarp we had with us.  We took out at O'Brien Creek just below the confluence with the Copper River.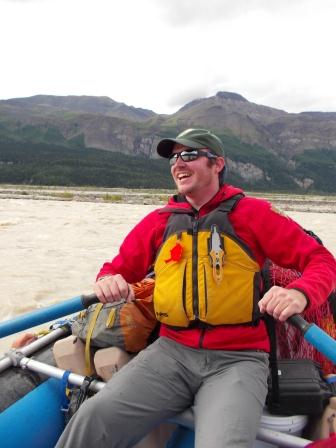 Not everyday is like this, but the good one's are!!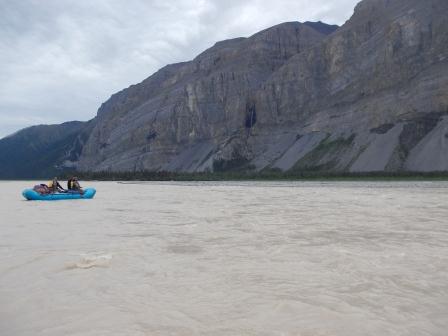 Floating in front of the Mile High Cliffs.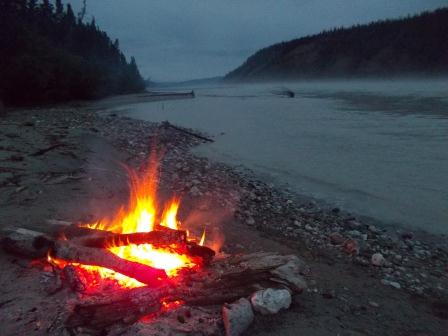 Fire just below high water mark so the ashes wash away the next time the river comes up.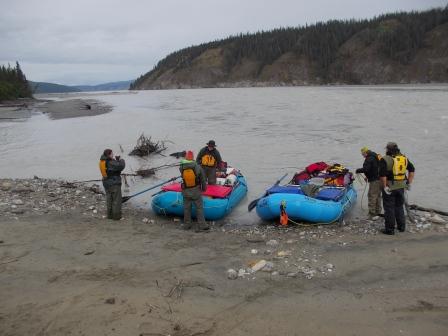 Getting ready to shove off in the morning.
Thanks again to the volunteers that helped make this trip possible!