The 2014 season is finally winding down and many of the seasonals have already left including Amy and Eric, the two SCA interns that worked with the backcountry program this summer.  They are both headed off on new adventures this winter and we wish them well.  They both did an outstanding job helping out with backcountry patrols this season.  Amy wrote up a short parting post for the blog and I'm just now getting around to posting it. 
Amy's Post:
 My summer working with the backcountry rangers at Wrangell- St. Elias has come to a close, but its impact on me is far from over. For example, I am bringing the soothing sense of calm I found out in the wild back with me into my busy city life as a student. Another important thing I am taking from this experience is how important the issue of climate change is to me. The effects of a warming planet are much more evident living in Alaska than many other parts of the world. The presence of glaciers and permafrost make it possible to visually track changes in the natural world that are the direct result of climate change. One of the most amazing parts of my summer was learning to travel on glaciers in the backcountry. I really came to love the geologic and recreational aspects of glaciers, as well as their beauty! Coming back to the lower 48, I don't know if I'm ready to live in a state without glaciers, but I do know I'm not ready to live in a world without them! One thing I'm certain I will be carrying with me throughout my future is a deep concern and activism about environmental issues, sustainability, and climate change.
                Thank you, Wrangell- St. Elias, for giving me these gifts and more!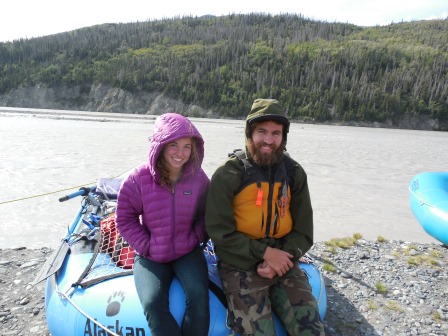 Outstanding SCA's Amy and Eric!