I recently got back from a patrol that traversed through the Capital Mountain area.  Most of my patrols focus on areas that we know get a lot of visitation or have specific issues that need to be addressed but once in a while I get to plan a patrol to an area that we don't know much about.  I had flown over the Capital Mountain area many times but never got to put boots on the ground there.  I knew that people came through this area to climb Mt Sanford and there is probably some hunting activity but beyond that I didn't know much.  Heading into an area that I don't know a lot about on a route that looks like it goes on the map is one of my favorite parts of this job.  Plenty of routes that look good on the map look terrible on the ground...
We flew the route on the way in and it looked good but the creeks and rivers looked pretty high.  We landed near the toe of the Copper Glacier and spent our first day climbing up onto the benches on the east side of Mt Sanford.  This area looked good from the air but turned out to be really marshy.  We ran across an old kill site just as we entered the thickest brush.  We spent a minute checking it out and then beat feet outta there.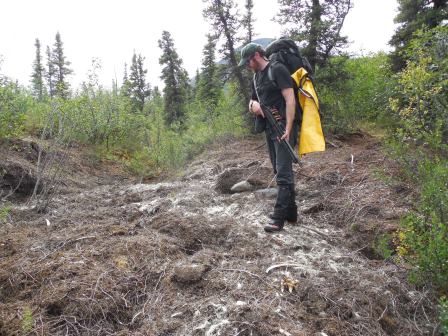 I hate carrying the shotgun most of the time, but every now and then I'm really glad to have it.  This is one of those times.
The second day we crossed the Drop Glacier and crossed behind Capital Mountain.  We didn't see much of Capital Mountain, it stayed in the clouds most of the day.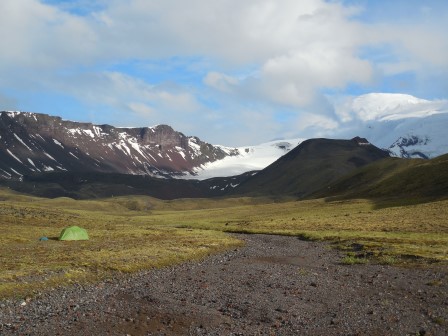 Some campsites are just better than others.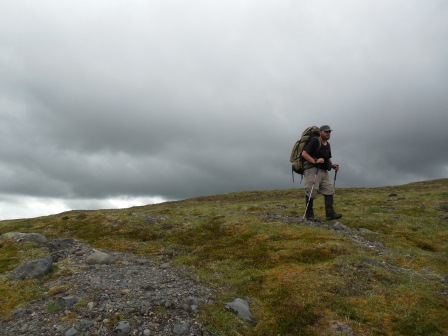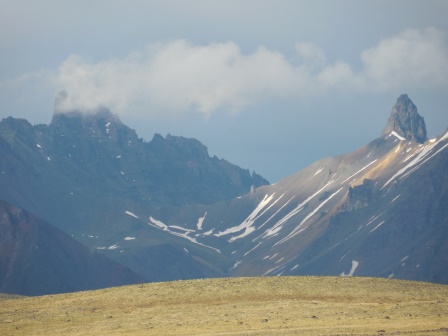 Capital Mountain.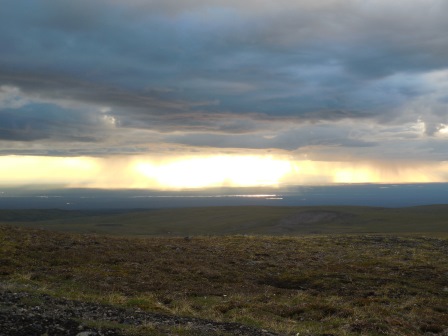 Rain showers move across the Copper Basin as the sun sets.
We continued around to the west side of Mt Sanford and spent the next few days traversing across tundra slopes and glacial moraine.  We finally descended back down through the brush and out to the Sanford River.  We camped on the river and had a wolf trot through camp, then a grizzly disappeared into the brush a couple hundred yards from camp.  In the morning another grizzly walked through camp. 
We needed to reach an airstrip on the other side of the river and the water was much too deep and swift to cross.  We spent the day hiking up to the toe of the glacier, crossing on the moraine and then hiking back downstream to the airstrip.  At the end of the day, and seven hours of hiking, our camp was less than a mile straight-line from the previous night's camp.  I'm pretty sure that's a new net mileage low for me!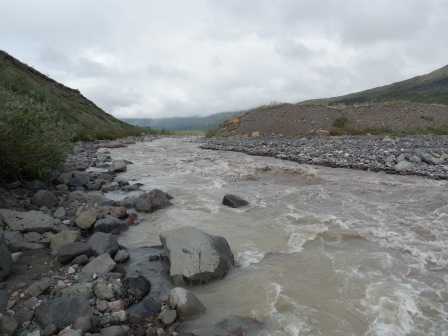 Glad we didn't try to cross this thing...
We were picked up the following morning and flew back to Gulkana.