Be A Junior Ranger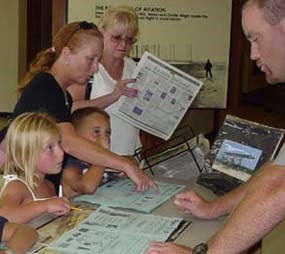 The Junior Ranger Program is a fun way to learn more about our park and how you can help protect it - just like our park rangers! The Junior Ranger Program at the Wright Brothers National Memorial is designed for kids ages 5 to 13.
This is an in-park program and must be completed while you are at the park--we do not mail out booklets or badges.
To become an official Wright Brothers National Memorial Flight Ranger during the summer program season (mid-June to Labor Day), you will need to:
1) Attend two ranger programs - check for a program schedule when you arrive at the park.
2) Complete the Junior Ranger booklet appropriate for your age - you can get a copy of the booklet at our visitor center.
If you finish the programs and the booklet, you will receive a Junior Ranger badge!
If you are visiting the park during any other time period, you can earn a Junior Ranger badge by completing the workbook and attend one program.
If you are not able to visit the park, you can still become a National Park Service Junior Ranger on-line and learn about the jobs of park rangers. Visit this site www.nps.gov/webrangers and learn about this fascinating line of work. Complete all the activities and you can become a Web-Ranger!


Last updated: April 9, 2016