Virtual Convention Days 2021: From the Pages to the Streets
Women's Rights National Historical Park (NHP) is pleased to announce Virtual Convention Days 2021: From the Pages to the Streets, a series of online programs being held July 16-18, 2021.This year's theme focuses on how women's writing in the first wave of the women's rights movement translated into powerful activism and real social change.

You can view our programs through the park's YouTube Channel or on our Facebook page.

Convention Days has been a signature event in Seneca Falls for many years. This annual event allows visitors to engage with women's history, focusing on the revolutionary 1848 Seneca Falls Women's Rights Convention through art, storytelling, speakers, and special programming. The park will continue this tradition virtually this year due to COVID-19.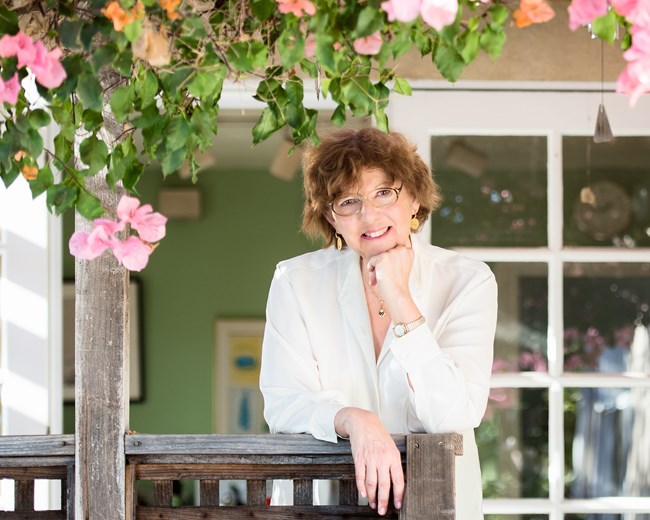 Keynote Speaker: Ellen Carol DuBois
Ellen Carol DuBois is one of the pioneers of modern U.S. women's history. In the 1970s, she helped to open up a field that has grown extraordinarily prolific and influential. Her particular interest is in women's political history. She has demonstrated that the one subject that was dealt with by previous historians – the path of women to full citizenship – was wide open for reinterpretation and new research. Her most recent book, published by Simon and Schuster in February 2020, is Suffrage: Women's Long Battle for the Vote. This is the first comprehensive history of the seventy-five-year-long U.S. woman suffrage movement to appear on more than a half century.
Her work has provided a model for revisioning the history of women's suffrage in terms of women's political agency, the internal conflicts and shifts within suffragism itself, and suffragism's connections to general themes and developments in political history.

Writing for Empowerment Workshop
*Registration Required. Limited seats available*
In the tumultuous times that we currently live in, it can be hard for us to feel that we have the ability or the opportunity to make the world any better. Our park's mission, is to preserve the work of suffragists as an example of what can be achieved by real (imperfect) people, when they believe in something. This is an opportunity for our visitors to feel empowered in their own lives.
In partnership with the Seven Valleys Writing Project, we are please to offer an opportunity for virtual visitors to explore how empowering writing can be. Throughout the 4-hour session, participants will have an opportunity to try writing personal narrative, poetry, and persuasive writing as a means to explore identity, experience catharsis, and ponder ways to support personal values into something impactful.
To register, send your name and email address to
WORI_education@nps.gov
. Use "Writing for Empowerment workshop" in the subject line.
Friday, July 16
11:00 AM: Superintendent Welcome
Enjoy a welcome to the annual event from Ahna Wilson, Superintendent of Women's Rights National Historical Park and Harriet Tubman National Historical Park.
11:15 AM: Keynote Speech by Ellen Carol DuBois
12:15 PM: Reading of Declaration of Sentiments
Join Elizabeth Cady Stanton (portrayed by Dr. Melinda Grube) for a Reading of the Declaration of Sentiments from the Weleyan Chapel.
1:00 PM: Ranger Program- Revolutionary Roots: The Wesleyan Chapel
How does a social movement grow? Join a ranger to meet the five organizers of the 1848 Seneca Falls Women's Rights Convention and learn more about the Wesleyan Chapel in which it was held. Discover how Faith, Fortune and Fate combined to ignite a movement.
2:00 PM: Someone Must Wash the Dishes: An Anti-Suffrage Satire
This hour-long program pairs a costumed performance of Marie Jenney Howe's 1913 satire, "An Anti-Suffrage Monologue," with a lively lecture putting the Antis' arguments in historical context. Presented by Michèle LaRue: AEA, SAG-AFTRA.
Howe's biography begins the three-part lecture: a Unitarian minister and Syracuse native, she was a major catalyst in several reform movements. Parts two and three describe interest groups comprising the Antis, and explain why several apparently ludicrous arguments in Howe's monologue were perceived as truth. ("I don't care about facts; I ask for proof.")
Shot in closeup, the video brings intimacy and immediacy to the battles for and against Woman Suffrage. That we won the vote becomes more remarkable when we face the opposition "up close and personal."

3:00 PM: Living History-Frederick Douglass Speaks on Great Writers and Orators of Universal Suffrage
Nathan M. Richardson captures completely the physical and spiritual essence of Frederick Douglass as he speaks on the great writeres and orators of the Suffrage Movement. From the Declaration of Sentiments to the Emancipation Proclamation, learn about the greatest women and men writers and orators of the equal rights movement in the 19th Century. Learn how Douglass taught himself to read and write. Hear the stunning revelation of how poetry became the foundation of his elopquent prose.
Saturday, July 17
10:00 AM: Arien Rozelle
A tiny New York Times clipping from 1897 reads in part: "The National Woman Suffrage Association proposes to establish a press bureau in New York or Washington for the purpose of collecting and distributing to the press of the country facts and arguments in favor of the enfranchisement of women." It was this clip that kicked of a years-long quest to piece together the story behind the headlines of woman suffrage: The NAWSA'S all-female National Press Bureau, which worked to influence public opinion through strategic media relations work. Presented by Arien Rozelle, Assistant Professor of Public Relations at Saint John-Fisher College Rochester, NY.
11:00 AM: Living History-Elizabeth Cady Stanton
Elizabeth Cady Stanton, portrayed by Dr. Melinda Grube, reflects on her life, relationships, and writings.
12:00 PM: Dorothy Wickenden
Join us as Chief on Interpretation, Janine Waller interviews Dorothy Wickenden. Dorothy is the executive editor of The New Yorker and the host of its weekly podcast "Politics and More," is the author of The Agitators: Three Friends Who Fought for Abolition and Women's Rights and the New York Times bestseller Nothing Daunted: The Unexpected Education of Two Society Girls in the West, and she edited The New Republic Reader: Eighty Years of Opinion and Debate.
Dorothy discusses her connections to Auburn, how "The Agitators" came to be, and the sources she explored as she wrote the book. She reveals some of the surprising discoveries she unearthed during her research and the relationships between Frances Seward, Martha Coffin Wright, and Harriet Tubman. Dorothy talks about how writings by these women provide deep insight into their lives and help paint a clearer picture of the Underground Railroad in Auburn, NY. Dorothy also addresses her upcoming plans, including a possible return visit to Central New York.
1:00 PM: Ranger Program- The Center of The Rebellion: The Elizabeth Cady Stanton House
Elizabeth Cady Stanton and her growing family lived in Seneca Falls from 1847 to 1862. During that time Stanton helped organize the 1848 First Woman's Rights Convention and launched the reform movement for women's rights to which she dedicated the rest of her life. She called her home on Washington Street in Seneca Falls, "The Center of the Rebellion."
2:00 PM: Ann Gordon
When Susan B. Anthony, age 77, organized her papers, she observed that historians would find gaps in the record. If only Elizabeth Cady Stanton "kept my letters since 1850 as religiously as I have kept all of hers, between us we should have a complete history," she complained to a young friend. "I am left to infer what I wrote to her by what she answers me." What came to her mind was an insight about historical evidence–that it is imperfect. While highlighting the evidence that women's rights activists saved, we might also ask ourselves, will women in the future find traces of our work?
3:00 PM: Ranger Program- Radical Hospitality: The M'Clintock Home
Thomas and Mary Ann M'Clintock made this their home for 20 years. They ran a local business, led the local Quaker Monthly Meeting, and were involved in almost every reform activity in Western New York. On July 16, 1848, Mary Ann M'Clintock hosted a session for the First Women's Rights Convention where planners drafted a document they called the Declaration of Sentiments proclaiming that "all men and women are created equal."
4:00 PM: Allison K. Lange
Sojourner Truth was among the first female activists to distribute her portrait to shape her public image. She wanted her photograph to challenge popular racist and sexist cartoons that Americans often encountered in illustrated newspapers. Instead, Truth wanted the public to think of her as a respectable woman. She sold her portraits to raise money for her equal rights causes and to support herself as a professional reformer. Today, we most often remember the women who followed her lead, including Susan B. Anthony and Elizabeth Cady Stanton. They recognized that portraits--especially seemingly realistic photographs--could demonstrate that activists did not resemble the manly monsters represented in popular illustrations. Portraits defined the suffrage movement's leaders as refined, feminine white women. In this conversation, we will consider Truth's innovative portraits and the creation of popular imagery of the women's voting rights movements. Then, we'll examine why we remember certain suffragists, and not others, today.
Sunday, July 18
10:00 AM: Suzanne Schnittman
Suzanne Schnittman discusses her book Provocative Mothers and Their Precocious Daughters and her research behind the book. The mothers in the book were pioneers in the movements for women's rights and woman suffrage. Their daughters responded to them in a variety of ways, each staking out her independence as she saw fit. The pairs are Martha Coffin Wright and Ellen Wright Garrison; Abby Kelley Foster and Alla Foster; Elizabeth Cady Stanton and Harriot Stanton Blatch; and Lucy Stone and Alice Stone Blackwell. Although the mothers advocated strongly for their causes, they devoted themselves to raising independent daughters who both reflected their lives and branched out from those lives. Schnittman will emphasize expectations she held about these relationships before she launched into the project, and demonstrate how reality proved some of them to be unfounded. She will also stress the universality of motherhood through the years. We hold many of the same goals for daughters today as provocative women's rights leaders held centuries ago. Seneca Falls is a most appropriate place to present their stories.
11:00 AM: Let's Have Tea
Let's Have Tea is an internet-based GIS-linked software application (app) that makes visible the network of connections among the letters and writings, places, and people active in the suffrage movement. By linking data from archival correspondence collections with geolocators, the app is able to create a visual representation of social networks and the transfer of ideas throughout the country. It's an easily accessible tool for parks, programs, and partners to find their connections to the suffrage story via mapping, access to archival documents and the discovery of thematic connections between sites. Towson University faculty and students created the base architecture and content for the software application.
12:00 PM Author Panel
Join authors and scholars Ann D. Gordon, Ellen Carol Dubois, and Suzanne Schnittman as they reflect on the value of historic writings, and how those writings are interpreted modernly. The panel will explore how we can understand historic people and their experiences through the writings they left behind. The panel explores whose stories are told and untold and how women's writings translate to activism in the first wave of the women's right movement.
1:00 PM-5:00 PM Writing For Empowerment Workshop
This event is co-hosted by the Friends of the Women's Rights National Historical Park serve as ambassadors and advocates for the preservation and interpretation of women's history and its enduring links to liberty, justice, and equality for all. Their aim is to support the daily operations of the Park through fundraising and preservation efforts, and by forging local and national partnerships, building membership, and creating and sustaining educational programming and dialogues to inspire the next generation of Park visitors.
The Group's vision is to insure, in perpetuity, the preservation of the Park for the inspiration and full achievement of equality for all. To achieve this end, the national Friends organization raises funds for Park initiatives, including the preservation of Park historical sites and educational programs.
Last updated: July 15, 2021