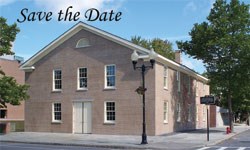 On July 16, 2011 we will rededicate the Wesleyan Chapel and celebrate the 163rd anniversary of the First Women's Rights Convention.

To kick-off the weekend, at 4:00 PM Friday July 15, Park Ranger David Malone will present an illustrated program "From Chapel to Monument: The Evolutionary Stages of the Wesleyan Methodist Chapel." The program will be presented in the park visitor center Guntzel theater. The visitor center will have extended operating hours until 7:00 PM on Friday, July 15 and Saturday, July 16. Ask at the information desk for Chapel Ranger Program times or to view our park film, "Dreams of Equality."
This year we are focusing our programs on the newly rehabilitated Wesleyan Chapel, as it is the centerpiece of the park.
For the kids we are offering a special Wesleyan Chapel Rededication junior ranger program and prize for the event and weekend anniversary, ask for your own copy of the program at the park visitor center information desk. Our park's regular junior ranger program will be available as well, see a ranger at the information desk for both. These junior ranger programs and prizes are free of charge.

We are planning a day-long celebration for Saturday, July 16, so mark your calendars.
All the following events will be held July 16 in Declaration Park, adjacent to the Park Visitor Center at 136 Fall Street, Seneca Falls. Where noted, events will take place inside the park visitor center.