Date & Time

Multiple Days: 10/13/2017, 10/14/2017

Contact Us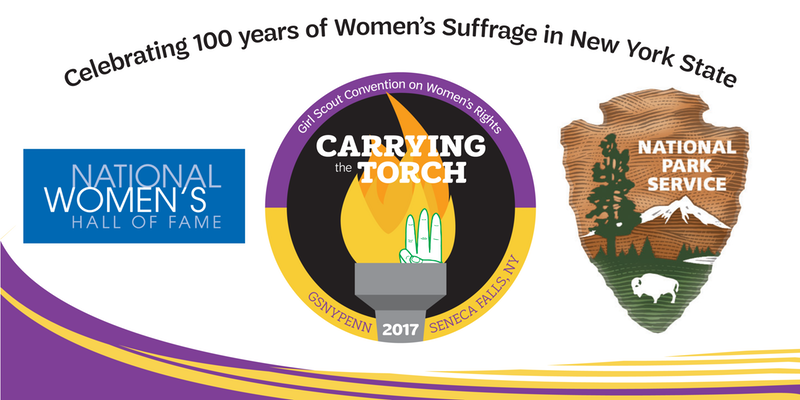 Friday, October 13-Saturday, October 14, 2017
Seneca Falls, N.Y.
This first-ever collaboration between GSNYPENN and the Women's Rights National Historical Park and National Women's Hall of Fame commemorates the 100th anniversary of women's suffrage in New York State while celebrating how girls of today carry the torch of equal rights through civic engagement.
The two-day convention is free and open to all Girl Scouts. We hope to see our sisters from across New York, Pennsylvania, New Jersey, Connecticut - and beyond! 
Activities will include:
guided learning tours of Women's Rights National Historical Park and historical sites Elizabeth Cady Stanton House, M'Clintock House and Wesleyan Chapel
visits to the 1844 Seneca Knitting Mill (future home of the Center for Great Women) and National Women's Hall of Fame with special Girl Scout alumnae designations placed on inductee placards—including Girl Scouts founder Juliette Gordon Low
a press conference celebrating the convention and the new Centennial of Women's Suffrage in New York Girl Scout Patch with a special guest
a special interactive re-enactment of the reading of the Declaration of Sentiments
a panel discussion (the "Convention") in which girls and well-known women leaders will discuss how the past influences the present and future featuring GSNYPENN CEO Julie Dale, Women's Rights National Historical Park Superintendent Noemi "Ami" Ghazala, Co-President of the National Women's Hall of Fame Betty M. Bayer, 2007 Women's Hall of Fame Inductee Dr. Judith L. Pipher and several others to be announced SOON!
a Pop-Up Girl Scout Boutique and customer service center for member support
a special "GS Torchbearers" evening reception at the historic Gould Hotel for any Girl Scout alumna (age 21+ ) with others who were scouts and supporters of the movement (note: this event is $20 per person and requires a pre-paid ticket, includes complimentary cocktail and hors d'oeuvres)
Schedule of Events
Friday, October 13, 2017
Time

Place

Event

9:00 a.m. - 1:00 p.m.

Women's Rights National Historical Park Visitor Center

Talks and Tours

9:30 a.m. - 1:00 p.m.

Wesleyan Chapel

Talks and Tours

9:30 a.m. - 12:30 p.m.

Elizabeth Cady Stanton House

M'Clintock House

Talks and Tours

10:00 a.m. - 1:00 p.m.

National Women's Hall of Fame

Seneca Knitting Mill

Talks and Tours

1:00 p.m. - 2:00 p.m.

Wesleyan Chapel

Press Conference and interactive re-enactment of Declaration of Sentiments

3:00 p.m. - 4:30 p.m.

Community Center

Panel Discussion on Civic Engagement (the "Convention")

5:30 p.m. - 7:30 p.m.

Gould Restaurant

Alumnae "Torch Bearers" Reception

Saturday, October 14, 2017 
Time

Place

Event

9:30 a.m. - 4:00 p.m.

Elizabeth Cady Stanton House

M'Clintock House

Talks and Tours

9:30 a.m. - 4:30 p.m.

Women's Rights National Historical Park Visitor Center

Wesleyan Chapel

Talks and Tours

10:00 a.m. - 4:00 p.m.

National Women's Hall of Fame

Seneca Knitting Mill

Talks and Tours