Date & Time

03/31/2017 11:00 AM to 12:00 PM,2:00 PM to 3:00 PM,6:00 PM to 7:00 PM

Fee Information

Free

Contact Us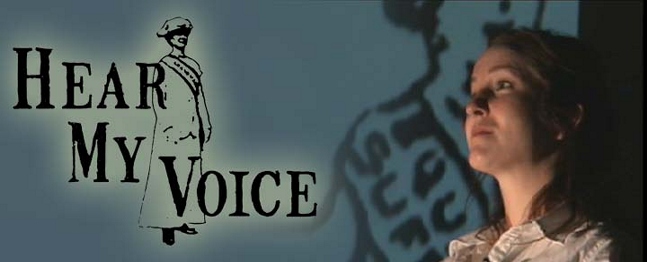 Join us for a performance by Living Voices "Hear My Voice" in the Wesleyan Chapel on Friday March 31st. Showtimes are: 11:00 am, 2:00 pm, and 6:00 pm. 

Living Voices combines dynamic solo performances with archival film and sound, turning history into a moving and personal journey.

How long was the fight for women's suffrage? Join the 72 year battle that won half of America's citizens the right to vote. The Story:

Jessie is the daughter of a Political columnist from Tennessee, growing up in 
Washington, DC during the early 1900s with dreams of being as important to her 
father as her younger brother is. When her Great-Aunt Charlotte, a longtime 
suffragist, comes to Washington, she introduces Jessie to the movement. Jessie begins 
to learn about the history of the women who started the movement, such as Susan B. 
Anthony and Elizabeth Cady Stanton, the new generation who have continued the 
fight, like Alice Paul and Lucy Burns--and those who oppose it, including her own 
parents. Despite their objections, Jessie soon becomes deeply involved in the suffrage 
movement, comparing their fight for democracy to the one her brother Will stands for 
when he goes overseas as a soldier in World War I. As tragedy strikes both at home 
and abroad and the battle for the vote continues to escalate, everyone in Jessie's 
family must face their own decisions about what they believe is right and the actions 
they are willing to take on this pivotal issue.

For additional information, view the Living Voices website.