Convention Days 2023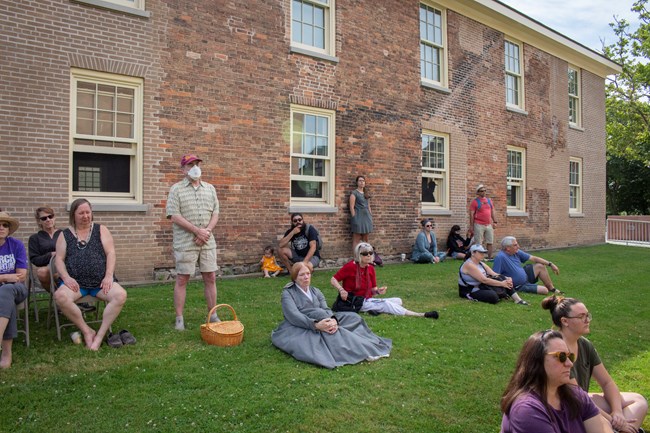 Join us July 21-23, 2023 as we comemmorate the 175th anniversary of the 1848 Women's Rights Convention!
Women, Gender, and the Law
Our society regulates and structures itself, in part, through the establishment and enforcement of law. It is through the law that we define and protect our rights, and outline our responsibilities to one another. In 1848, five women planned a convention that has sparked legal and legislative activism for the last 175 years. The Seneca Falls Women's Rights Convention was the first public meeting to focus specifically on "...the social, civil, and religious condition and rights of Woman, ... ." Held in the Wesleyan Methodist Chapel on July 19th and 20th, about 300 people came to discuss and debate the rights of women in America for two days. On each day of the convention, the Declaration of Sentiments was read to the assembly. The Declaration describes in detail the ways that the laws of the time failed women; failed to protect their rights, their safety, and their potential.
He has compelled her to submit to laws, in the formation of which she had no voice.
He has made her, if married, in the eye of the law, civilly dead.
The Declaration of Sentiments was signed by 100 of the attendees. By signing, those people signaled their agreement with the sixteen grievances listed. At the end of the Convention, the assembly voted to accept eleven resolutions committing to a set of principles and actions to change the way that women were treated under the law.
Resolved, That such laws as conflict, in any way, with the true and substantial happiness of woman, are contrary to the great precept of nature, and of no validity; for this is "superior in obligation to any other."
Resolved, That all laws which prevent woman from occupying such a station in society as her conscience shall dictate, or which place her in a position inferior to that of man, are contrary to the great precept of nature, and therefore of no force or authority.
Resolved, That woman is man's equal--was intended to be so by the Creator, and the highest good of the race demands that she should be recognized as such.
On the 175th anniversary of the Seneca Falls Convention, Women's Rights National Historical Park, along with invited speakers, partners, and visitors will explore the conditions and legal structures that motivated the reformers of 1848 to organize. We will also look at a few of the many ways that Seneca Falls Convention planners and attendees inspired changes in American democracy and representation, legal theory and the practice of law, and the most fundamental pillars of American citizenship.
Check back regularly as we add to the schedule of speakers and events.
Refer to this page, our
park calendar
, or follow us on
Facebook
,
Instagram
, and
Twitter
for the latest news and updates.
Last updated: April 13, 2023