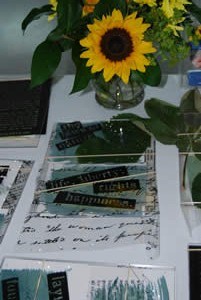 Women's Rights National Historical Park is participating in a national initiative of the National Park Service, entiled ARTS AFIRE! This program hopes to engage the public with the park's resources through arts activities. Two workshops were held in March at the historic Thomas and Mary Ann M'Clintock House in Waterloo, NY. The M'Clintock House harbored fugitive slaves on the Underground Railroad and hosted the meeting where the Declaration of Sentiments of the nation's first Women's Rights Convention was written in 1848. To see the artwork from those workshops, visit our photo page at ARTS AFIRE! for March.
July's featured artist, Texas Tech University art professor Carol Flueckiger, gave a presentation and led workshops using cyanotype exposure (an early blueprint method). Particpants worked with letters from William Lloyd Garrison, Frederick Douglass, Lucretia Mott, and members of the Richard Hunt family from the park museum collection. These postcard sized works are on display with Flueckiger's art in the park gallery through July 31. See the artists and art at July ARTS AFIRE! and more on our Facebook site.
August's ARTS AFIRE! featured artists Tom Hussey and Bev Lombardo of the Seneca County Arts Council and the Elizabeth Cady Stanton House and Grounds. Landscape illustrations by Hussey and Lombardo and art produced by members of the general public at a workshop at the Stanton House are on display at the Stanton House.in the visitor center through September 3. For selected pictures of the exhibit, the workshop, and participant art, please see our ARTS AFIRE! for August page. For more pictures, see our Facebook site.
To see some of Carol Flueckiger's featured art and of a previous workshop, please go to http://carolflueckiger.com/ and click on the Arts Afire button.