Traveling Trunk
Pathways to Equality:  Traveling History Classroom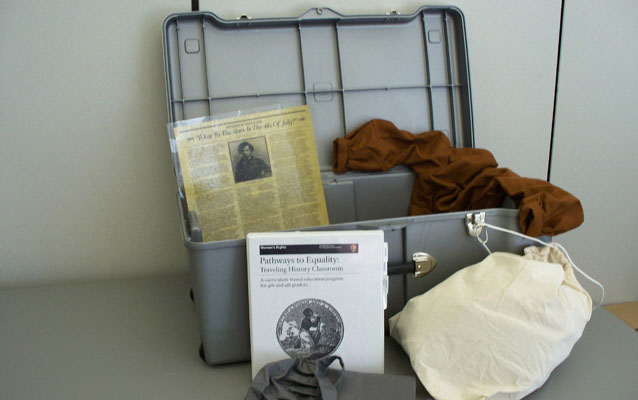 This Traveling History Classroom contains a hands-on study of the antislavery movement and Quakers, and how they influenced the First Women's Rights Convention. It includes a study guide that used documents, images, diary and letter excerpts, and reproduction items and clothing to explore how Quakers and antislavery reformers brought about the Seneca Falls Convention.
Borrowing Instructions
Schools within a 75 mile radius of Seneca Falls, NY are requested to make arrangements to pick up the Traveling Classroom at the park and to return it. Schools outside of a 75 mile radius of Seneca Falls may borrow the Traveling Classroom via Fedex by e-mailing the teacher's name, School name, School address, a contact telephone number, a contact e-mail address, and the dates the Traveling Classroom is requested for, to e-mail us. The teacher will be contacted about the availability of the Traveling Classroom.
Details
Subject:

African American History and Culture, Constitutional Law, History, Journalism, Leadership, Religion, Slavery

Keywords:

Antislavery, Underground Railroad, Fugitive Slave Law, Quakers, Society of Friends, women's rights, Seneca Falls, convention, Declaration, Declaration of Sentiments

type:

Traveling Trunk
Last updated: February 26, 2015