Lesson Plan
Teaching with Historic Places: "Journey from Slavery to Statesman": The Homes of Frederick Douglass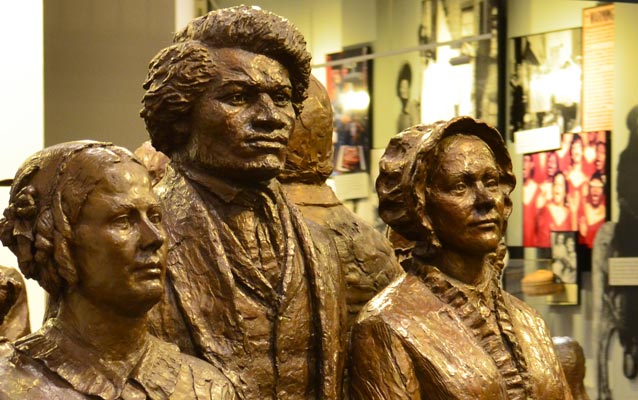 Grade Level:

Fourth Grade-Twelfth Grade

Subject:

African American History and Culture, Civil Rights Movement, Civil War, History, Reconstruction, Slavery, Women's History

Duration:

2-4 hours

Group Size:

Up to 36

Setting:

classroom
Overview
Using Douglass's own words, maps, and other primary sources, students will learn about the life of this great American hero. From the Eastern shore of Maryland as a slave, to New Bedford, Massachusetts as a freedom seeker, to Washington D.C. as an author, journalist, lecturer, and statesman.
Objective(s)
Objectives for students
1) To locate Douglass's successive homes and describe his life at each.
2) Using Frederick Douglass's life and homes for reference, to compare and contrast the status of an enslaved person, a prosperous free man, and an American statesman in antebellum America.
3) To explain what the Underground Railroad was and describe some of the risks and obstacles to a successful escape from slavery and adjustments to a new life of freedom.
4) To seek out examples of injustice in their community and to provide possible solutions.
5) To write a short autobiography.
Background
This lesson is based on three historic places related to the life of Frederick Douglass: the Wye House on Maryland's Eastern Shore; the Nathan and Polly Johnson House in New Bedford, Massachusetts; and Cedar Hill in Washington, DC. These buildings are among the thousands of properties listed in the National Register of Historic Places.
Procedure
Follow steps 1 through 6 in the Teaching with Historic Places Lesson Plan
Assessment
Five activities listed in the Teaching with Historic Places Lesson Plan provide assessment opportunities.
Park Connections
Frederick Douglass attended the First Women's Rights Convention, published the minutes in his Rochester, NY printing office, and was known as a "women's rights man."
Extensions
Add Douglass's views on women's rights and women's suffrage to explain to students the "cross-over" of reform movements and their advocates. Women's rights and anti-slavery advocates both used the Declaration of Independence and their fundamental beliefs in equality and freedom for all Americans to network and strengthen their separate and combined causes.
Vocabulary
Orator, Underground Railroad, plantation, slavery
Last updated: February 26, 2015