Lesson Plan
An American Story – The Jerry Rescue of 1851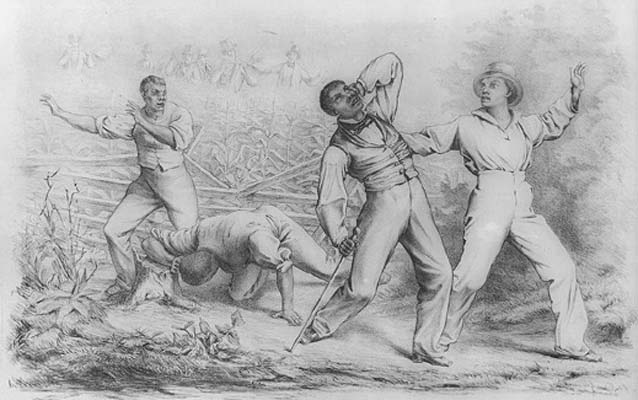 Grade Level:

Fifth Grade-Adult Education (general)

Subject:

African American History and Culture, Constitutional Law, History, Slavery

Duration:

Allow your class two hours to complete this lesson plan.

Group Size:

Up to 36 (6-12 breakout groups)

Setting:

classroom

Keywords:

Slavery, Underground Railroad, Abolition, Fugitive Slave Law.
Overview
In 1850, Congress passed the Fugitive Slave Act, which said that all runaway slaves had to be returned to their masters, even if they had gained their freedom by escaping to a "free state".  On October 1st, 1851, an Abolitionist political party was holding an Anti-Slavery Convention in Syracuse, NY.  That same day, a runaway slave named William "Jerry" Henry was arrested and jailed under the Fugitive Slave Law by federal marshals. If you were there, what would you do?  What actually did happen?
Background
Refresh your understanding of the Fugitive Slave Law, and the Underground Railroad.
Materials
These are two different sources that describe, in detail, the Jerry Rescue.
A brief description of the Jerry Rescue. Download
Procedure
Step 1. Describe to your class the Fugitive Slave Law, and the Underground Railroad.
 Step 2. Click on the links for The Jerry Rescue, William "Jerry' Henry's escape, and "Abolitionist battle down a door in Syracuse to free a fugitive.Download each and print. Distribute to your class.
Step 3. Use the Activities for a class discussion on the Jerry Rescue.
Step 4. Print out the questions under "Making Connections" and have your class answer them.
Step 5. Review the answers with your class.
Assessment
Have your class answer the questions, and review their answers.
Park Connections
The leaders in the Seneca Falls Convention came from the antislavery movement.Jermaine Loguen who participated in the Jerry Rescue stayed overnight at the M'Clintock House in Waterloo on his way to Canada to escape capture by federal marshals for being a runaway slave. This was the same house in which the Seneca Falls Convention was planned three years earlier.
Additional Resources
Three links to articles about the Jerry Rescue.
Vocabulary
Slavery, Antislavery, Runaway Slave, Fugitive Slave Act, Convention.
Last updated: February 26, 2015