Lesson Plan
Man of Many Hats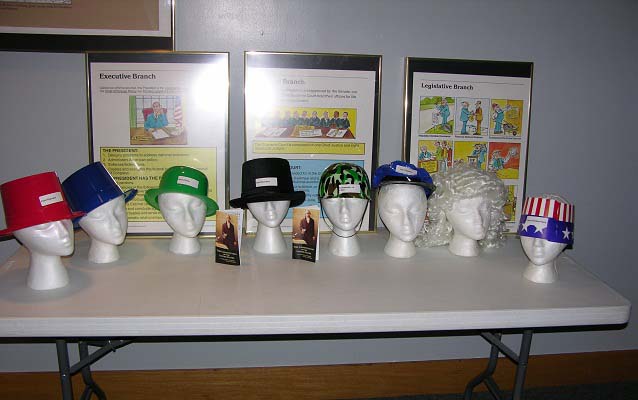 Grade Level:

Fifth Grade-Eighth Grade

Subject:

Government, History, Law, Slavery

Duration:

Approx. 45 minutes

Group Size:

Up to 36

Setting:

indoors or outdoors

National/State Standards:

Benchmark A:
Identify the responsibilities of the branches of the United States government and explain why they are necessary.
Grade Level Indicators: 5.1, Grade Level Indicators: 6.1
Overview
This lesson examines the career of William Howard Taft through the many different characteristics often associated with other Presidents as well as Supreme Court leaders. William Howard Taft's career in public service exemplifies a man with great integrity, who wore many hats when making crucial decisions that affected the well being of the American People.
Objective(s)
To identify the three branches of government.
To understand that the President must be multi - dimensional because the decisions he makes will impact the American People.
List the two highest positions held during William Howard Taft's career.
Background
While Congress makes laws and the courts interpret or explain the laws, the President of the United states has seven different roles to play or hats that must be worn in order for him to perform his job effectively for the country.
The several role /hats of the President:
Chief Executive

Chief of State

Chief Diplomat

Chief Legislator

Commander -in - chief

Party Leader

Comforter - in - chief
Materials
Teacher: can collect different styles of work hats that pretain to public servants i.e. police, military, and helments. These will represent the many hats worn by the President.
Chief Executive hat
Chief Diplomat hat
Chief Legislator hat
Commander - in - chief hat
Party Leader hat
Comforter - in - chief hat
Crisis Manager hat
Procedure
Divide students into small groups and give each group an assorment of newspapers and magazines. have students use these sources to create a scrapbook of pictures, drawings, and articles related to the President and the government. let students know that there's generally something related to the president and government in the editorial section of the newspaper.
tell the students about decisions made and actions taken by President Taft. Have the students identify which hat Taft wore in each situation. (I dont't encourage the students to wear the hats)
Teachers read statements about the editorial and have students name or point out what hat the president is wear when he made the decision or role he was carrying out as president.
Last updated: April 10, 2015