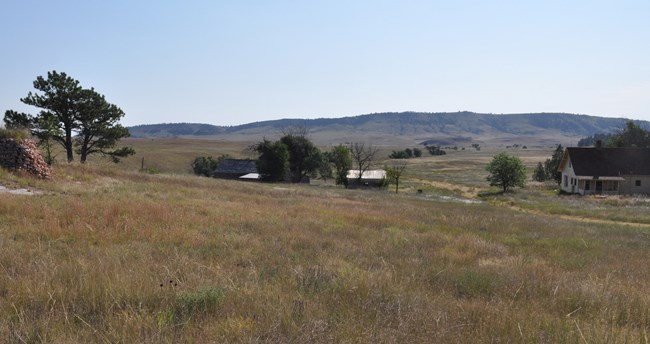 Homesteading on the Prairie
The prairie is a harsh environment. Extreme variations of temperature, moisture, and wind are always present. To eke out a living on the prairie one must be ready to meet these conditions head on, and Carl Sanson was the type of person to do just that. He and his family successfully homestead a large plot of land that is now part of Wind Cave National Park.
On this land, he was able to adjust to the harsh, ever-changing conditions nature threw at him and survive. He endured by being able to adapt, to change with the times and conditions. The homestead of Sanson's father and later Sanson himself is testament to the tenacity of these early homesteaders and how they protected and cared for the land. According to Sanson "it took courage to live in a place eight miles from town [Buffalo Gap], with neighbors three to ten miles apart. There were many problems along the way - dry years, grasshoppers, hail storms, and range fires, but they endured them all."
Ranching in the Black Hills
Raising cattle was the major focus of ranching in the Southern Black Hills in the 1870s and 80s. Many large cattle ranches sprang up near the then thriving town of Buffalo Gap. The topography of the Southern Hills provided less severe winter conditions and promoted more robust livestock. The arrival of the railroad in Buffalo Gap in 1885 allowed these hardy cattle to be shipped to eastern and European markets. During these years cattle ranching flourished and then, just as quickly, collapsed. The seemingly endless prairie grasses were not endless. Too many cattle grazing in too little space and catastrophic weather incidents depleted the land.