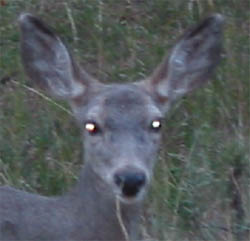 Vision at Night
Ever wonder why some animals have excellent night vision, while we poor humans stumble over the most obvious items? There are basically three reasons.
First, nocturnal animals (animals active at night) tend to have proportionally bigger eyes than people do. With this, they also tend to have pupils that will open wider in low light conditions. Thus, they can gather more light.
Second, after the light passes through the front of the eye (pupil), it is focused by the lens onto the retina. The retina lies at the back of the eye. It has a very complex structure and is connected to the brain by the optic nerve.