Resource Ramblings 2007-09
Project: European Buckthorn Control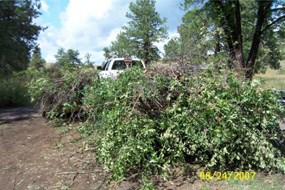 During 2007, the Park accomplished a major European Buckthorn (Rhamnus cathartica) removal project in the Visitor Center drainage, focusing on the area between the Visitor Center and the natural entrance. Hundreds of buckthorn trees and shrubs were removed from the drainage, mostly through manual means (hand-pulling; digging and grubbing out root crowns with shovels or pulaskis).
A few large shrubs and trees were cut with a chainsaw and their root crowns subsequently removed with the aid of a stump grinder. Root crown removal was important during this project because buckthorn will re-sprout from the crown if it is not removed.
In additional to buckthorn, the Vegetation Management Crew removed many other exotic plant species from the area, including: houndstongue, common burdock, common mullein, poison hemlock, motherwort, American horehound, and white campion. Some reseeding with native plant species will be accomplished during September 2007.
The final step in the process will be to monitor the area for the appearance of new seedlings which could result from the seed bank existing in the area.
The first record of European Buckthorn at the park dates to 1982. During the Fall of 1999, an inventory and mapping project was undertaken, during which twenty-nine locations were discovered, with a total of more than 1,000 plants. State of South Dakota and Custer County listed noxious exotic plant species were control priorities at that time.
Recent progress in the control of Canada thistle, leafy spurge, and other "big name" species has allowed the Vegetation Management Crew to re-direct some of their energy to other problem exotics. During 2005, NEPA Compliance was accomplished for ground disturbance that would occur during buckthorn control in the Visitor Center drainage and along Cold Springs Creek. Prior to 2007, some buckthorn shrubs and trees were cut, but without the subsequent removal of root crowns these plants resprouted.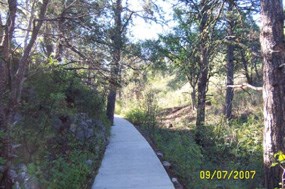 The success of the 2007 project paves the way for buckthorn control in additional areas of the park in years to come. (Marie Curtin)
Comments and feedback about Resource Ramblings are encouraged and should be directed to Dan Foster, in person, or via email.
Last updated: April 10, 2015