Resource Ramblings 2006-12
The prairie dog colony acreage in the park is approximately 2,350 acres, based on 2004-2006 mapping and estimated expansion of unmapped colonies. Under the preferred alternative of the park's recently completed Black-tailed Prairie Dog Management Plan and Environmental Assessment, the park's prairie dog population will be managed to maintain colony acreages within the 1,000 to 3,000 acre range. This population has to be buffered with the ability of the park's rangelands to carry other grazers using the system, in particular bison and elk. The Park uses the bison roundup to manage the population of bison, which is currently at about 400 animals. However, with the discovery of Chronic Wasting Disease, the Park's ability to manage the elk population through roundup was removed. As a result, we are in the process of completing a new Elk Management Plan and Environmental Impact Statement, which is planned for completion in the fall of 2007. In the meantime, as elk numbers continue to rise and the range is utilized more, management of other species may be required to minimize impacts.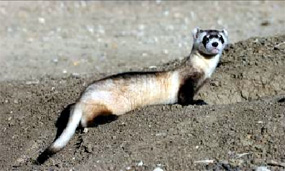 The available management tools as outlined in the Black-tailed Prairie Dog Management Plan for prairie dogs include lethal control tools (rodenticide, shooting by park staff), non-lethal control tools (live trap and relocate), and habitat management tools (management of other species' grazing levels, mowing and mechanical thinning, natural barriers, physical barriers, landowner incentives funded by non-NPS entities, and conservation easements). An additional management tool being considered is reintroduction of black-footed ferrets. The presence of ferrets would act, to an extent, as prairie dog population control tool. Ferret predation of prairie dogs would be a natural management tool that would lessen the need to use other management tools, including trapping, shooting, or rodenticide.
The implementation of these tools is being evaluated to determine what would be best to achieve the objective of control while having the fewest adverse effects on resources.
The park is following the steps outlined in the prairie dog management plan when prairie dog control is needed, mainly live-trapping and translocation, shooting, and then the use of rodenticide. The park has received approval to use zinc phosphide in this effort, with initial control efforts geared to colonies near park boundaries where adjacent landowners have concerns, near the campground, and bison corral area.
Zinc phosphide is a slow-acting toxicant that is administered as poison grain bait and is classified as restricted use pesticide. Applicators must obtain certification before they can purchase or use this product.
Poison grain baits are effective when the prairie dog's most desirable food, green grass, has become dry and dormant. Fall baiting generally is most successful because prairie dogs eat grass seeds to build fat reserves for the winter. Poison grain baits for prairie dog control are most effective during clear settled weather when temperatures are moderate. Rain will wash the toxicant from most bait. Zinc phosphide is not cumulative in any body tissues, which means there is little chance of poisoning to a predator.
To increase the acceptance of treated bait and achieve better control, untreated oats are used as a pre-bait, two to three days prior to baiting. Pre-bait and bait are placed on the edge of each mound on a prominent, solid spot of bare soil, not on top of the mound in loose dirt or down the burrow.
Bait is lightly scattered in small spots (not piled to avoid attracting other wildlife), preferably during early morning. Treated bait is applied only near burrows where prebait has been eaten. If prebait is not consumed, the treated bait application would be postponed.
When poison grain baits are applied according to directions, they usually result in an 80 to 90 percent reduction in prairie dog numbers. Unsuccessful control generally is due to the presence of other food or failure to prebait.
Since zinc phosphide is a poison, it should be kept away from animals it is not intended to control. It is harmful when swallowed, inhaled, or absorbed in the eyes. It cannot be absorbed through the skin, but may be absorbed through open wounds. Those handling the bait are required to wear personal protective equipment and must wash hands thoroughly after applying bait and before eating, drinking, chewing gum, using tobacco or using the toilet.
Because this product is toxic to fish, birds and other wildlife it's use is closely monitored.
Comments and feedback about Resource Ramblings are encouraged and should be directed to Dan Foster, in person, or via email.
Last updated: April 10, 2015