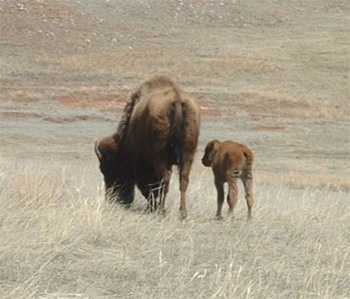 First Bison Calf of the Season
The first bison calf observed for the 2006 season was on April 4, with "first sighting" honors going to Sabrina Henry, Jason Devcich and Jamie Chronert, who all observed the male calf along NPS 5.
Bison have an average gestation period of 9 months (270–300 days). Calves are born singly beginning in April, peaking in May, with a few stragglers born as late as October. Bison calves typically weigh between 30–40 pounds at birth. At Wind Cave National Park, calves attempted to stand within 10 minutes of birth and began to walk by 20-35 minutes. By 15-45 minutes, they began to nurse and may run by 1.5 hours after birth.
Calves are born with a "cinnamon" or "milk-chocolate" coat. Between 5-12 weeks of age, the calves start to molt, and you may see a calf with a dark brown face and "cinnamon" body. By 10-18 weeks of age, most calves will have completed the transition to the dark brown or black coat seen on, older bison.
Mean nursing time decreases as the calves age, so weaning occurs gradually. At Wind Cave National Park, if a cow becomes pregnant during the July rut following the birth of her calf, she will continue nursing the calf until it has reached 9-12 months of age. If a cow does not become pregnant during the rut following birth, the barren cows continue nursing until the calf is 17-21 months of age. - Barbara Muenchau