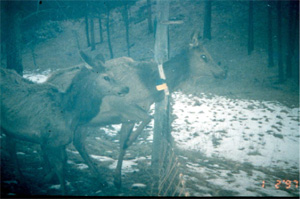 Wildlife
On January 23, 2005, the park will capture 54 elk with a helicopter and net gun and deploy GPS collars to again track elk movements in and out of the park.
Use of GPS collars allows determination of elk locations via remote monitoring. The collar will retrieve a position every 7 hours and store it for later downloading. Sampling at these intervals will provide 3-4 locations per elk per day and evenly distribute sampling throughout the day and night.
In addition to GPS receivers, collars will include VHF transmitters, which will operate for 3-5 days per week. The transmitters will include mortality sensors and will be checked regularly so collars can be recovered promptly if they malfunction or if elk die during the course of the study. Checks will be attempted from the ground and supplemented with aerial telemetry flights. Elk captured will also be marked with ear tags or PIT tags, so individual animals can be identified if they are ever recaptured.
The objectives of this study are:
• Generate seasonal maps depicting the geographic extent and spatial distribution of activity for elk captured in WICA during the winter.
• Develop resource selection functions relating the distribution of elk activity to landscape features (e.g., vegetation, roads and trails, water sources, land ownership and management practices, etc.).
• Develop monthly estimates of the frequency, duration, and extent of elk movements across park boundaries.
• Estimate the proportion of wintering elk with seasonal home ranges that span park boundaries.
• Estimate the proportion of wintering elk that reside outside WICA during other portions of the year.
• Document responses of elk to hunting outside WICA.
• Estimate vital rates (survival and recruitment); synthesize results in models to produce updated estimates of population growth rates. Estimate mortality rates due to hunting for elk that winter within WICA.
GIS
Most people working with spatial data are aware that we have recently acquired county wide 2004 color imagery. This photography came from the National Agriculture Imagery Program (NAIP). These images provide an accurate and up-to-date background when creating maps, though their large file size can make working with them cumbersome. To help with this, Wind Cave, Jewel Cave and Mount Rushmore were clipped out of the county images to isolate each individual park and allow for faster computer response time. Each image is stored on our data server under the respective park. The regional office, which holds a license for MrSid file compression, will soon be sending even smaller files of each park, which will yet again improve performance. We currently have data for Custer, Fall River, Jackson and Pennington counties.