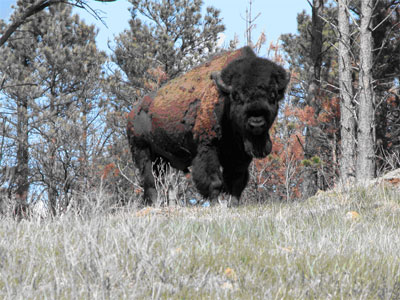 Natural Resource Management
Ladies and gentlemen, July and August are the heavy months for bison to participate in the rut. At this time, they have other things on their mind than your comfort and safety. Likewise, they are not particularly concerned with the needs or desires of our visitors. Please be careful when near bison at this time and give them a wide birth. If you get this look, beware!
Park Precipitation
Although the last few years have been a bit dry, the 2005 precipitation has been both welcome and needed. As of now:
For the calendar year (January-June), the Park has received 11.83 inches. The 53 year January-June average is 10.06, which means the Park is 1.77 inches above 53 year January-June average.
The full calendar year (January-December) average is 17.81 inches of precipitation. Therefore, the Park needs an additional 5.98 inches to reach that average.
The 53 average precipitation for July is 2.48 inches. Thus far, the Park has received 0.35 inches, which means we need an additional 2.13 inches to reach the 53 year average for the month. July is a very important precipitation month for the Park.
Over the past 12 months (July 2004-June 2005) the Park has received 20.26 inches, matching the 53 year average.
The Vegetative Growth Year (VGY) encompasses the months of October through the following September. To date, the Park has received 13.36 inches of precipitation for the VGY. The 53 year VGY average is 12.2 inches. – Barb Muenchau
Resource Management Volunteer
Tom McBride, volunteer, is working on a variety of projects such as removing stakes from tiger salamander inventories, asphalt removal, exotic species control, boundary fence surveys, and photography. You no doubt have seen the McBride's motor home in the housing area with the rafting armadillos. Say hay to him when you get the chance.
Beauties or Beasts?
This is the time of year when thistles add beautiful shades of pink, lavender, and purple to the park's prairie landscape. However, beauty is in the eye of the beholder. Thistles, with their prickly stems and leaves, are not always a welcome sight. Four thistle species occurring at the park are native to this area, four are not. The native species are wavy leaf (Cirsium undulatum), Flodmann's (Cirsium flodmanii), Drummond's (Cirsium drummondii), and yellowspine thistle (Cirsium ochrocentrum). The exotic thistles are Canada thistle (Cirsium arvense), musk thistle (Carduus nutans), bull thistle (Cirsium vulgare), and Scotch thistle (Onopordum acanthium).