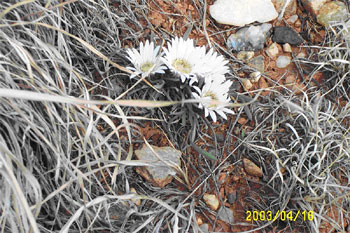 Easter Daisies at Easter Time
Claude A. Barr, in his book Jewels of the Plains, provided a glimpse of the beauty of the Townsend's Easter daisy. Wintering as a completely evergreen bun of narrow leaves close to the ground, and guarding its quota of autumn-set buds, Townsendia exscapa joyously responds to the gentle light and warmth of early spring with wide disks and short rays of soft gold and glowing light pink," he wrote, adding, "In the garden it is necessary to fence T. exscapa from rabbits when green feed is scarce."
Townsend's Easter daisy is one of three species of Easter daisies known to occur in southwestern South Dakota. Two of the species have been observed at Wind Cave National Park, and are listed as species of concern with the South Dakota Natural Heritage Program. Neither species is considered threatened or endangered. It is important, however, to monitor changes in occurrence or range for these species, to help prevent the need to upgrade their designations to rare or imperiled in the future.
There are several populations of Easter daisies scattered throughout the park. Will we see Easter daisies blooming by Easter on Sunday, March 27th? It is possible, despite the fact Easter is relatively early this year. Townsend's Easter daisies have been known to bloom as early as March and as late as May. Hooker's Easter daisies bloom later, usually late April to June.
Hopefully the current drought, and an apparent increase in the local rabbit population, will not lead to a decrease in daisies at the park this spring.
Prairie Dog Management Plan Update
Internal and public scoping meetings have been conducted and the comment period is open until March 15, 2005 for general public comments on the information presented. Comments will be incorporated into the draft WICA Prairie Dog Management Plan/EA. The timeframe for this project is for the draft Plan/EA ready for public review by early August. The final Plan/EA and Finding of No Significant Impact (FONSI) are planned for completion in November 2005.