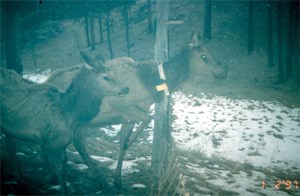 Biological Resources
Wind Cave National Park will begin a multi-year study to in late January 2005 to determine movement of elk in and around the park. Each winter from 2005 through 2007, Global Positioning System (GPS) collars will be deployed on 30 female elk and 20 yearling male elk captured with a helicopter and net gun. The distribution of elk captures will be stratified to assure the distribution of collars throughout the park. The collars will be remotely released (by radio signal) and retrieved each fall and refurbished for redeployment. Monitoring 90 different female elk for 1 year each will assure the distribution of samples among an adequate number of social groups to accurately reflect the movements and distribution of female and juvenile elk that winter in the park, even if some collars fail or cannot be retrieved. Observing 60 different yearling males will enable us to estimate rates and distances of dispersal for the age class and sex most likely to disperse.
Use of GPS collars allows determination of elk locations via remote monitoring. The collar will retrieve a position every 7 hours and store it for later downloading. Sampling at these intervals will provide 3-4 locations per elk per day and evenly distribute sampling throughout the day and night. For example, if an elk was located one day at 0100, 0800, 1500, and 2200, it was located the next day at 0500, 1200, and 1900 and a day later at 0200, 0900, 1600, and 2300. This rotating schedule assures a complete picture of elk movements and habitat use and eliminates bias that might otherwise result from temporal activity patterns.
In addition, several elk will be selected each day (according to a rotating schedule) for location at 15 min intervals. This will be used to document movements of elk to such features as water sources and fence crossings. In addition to GPS receivers, collars will include VHF transmitters, which will operate for 3-5 days per week. The transmitters will include mortality sensors and will be checked regularly so collars can be recovered promptly if they malfunction or if elk die during the course of the study. Checks will be attempted from the ground and supplemented with aerial telemetry flights. Elk captured will also be marked with ear tags or PIT tags, so individual animals can be identified if they are ever recaptured.
Resource Data Management
In touring the devastation of the tsunami that struck southern Asia in late December, U.N. Secretary General Kofi Annan asked, "Where are the people?" He then described the devastation on Sumatra as the worst he had ever seen. The death toll has risen to nearly 145,000 and authorities say that number will rise significantly. Tens of thousands of people are still missing and the threat of disease places survivors in peril. Homes and other structures were wiped off the land and basic amenities are non-existent. British Foreign Secretary Jack Straw commented that the effort to identify thousands of bodies is one of the biggest international forensic operations.
GIS has emerged as an important tool for effective planning, communication, and training in various stages of the disaster management cycle. A major concern during any disaster is the availability of spatial information, and the dissemination of this information to all concerned. Internet-based GIS plays a key role in providing cost-effective information at various stages of the disaster cycle. ESRI, the company that created ArcGIS, is actively assisting government agencies and official disaster relief organizations that need help in responding to the recent devastating earthquake and following tsunamis in South Asia. Temporary keycodes, technical support, and other assistance are available 24 hours a day, seven days a week and is available to any organization with GIS needs regardless of its GIS platform. The following satellite images provide examples of GIS data available and tell a grim story of the tsunami's destruction.