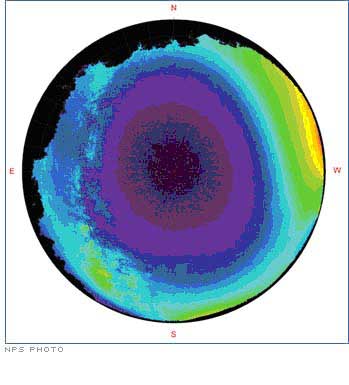 This panorama shows light levels in the night sky over Walnut Canyon National Monument, Arizona. Although Flagstaff, population 75,000, is evident to the west, the sky is much darker than would normally be expected given the town's proximity and population.
Development along park borders has been a concern for units of the National Park Service and this is true with Wind Cave as more people purchase land adjacent to the park and develop ranchettes. Overflow light from neighboring communities and small landowners have a serious impact to night sky quality. The affect of light pollution from nearby and distant development is already visible in the otherwise pristine night sky. Wind Cave's night sky resource is on par of other more traditional resources and touches almost every aspect of park management from scenery to ecosystem integrity, from cultural resource relevance to environmental leadership. Not only is the night sky above Wind Cave among the best in the nation, it is particularly germane to the prairie ecosystem, where the day and night sky form such an important part of the scenery. Wind Cave is also a Class I airshed, offered the highest protection under the Clean Air Act. Daytime and Nighttime visibility are considered Air Quality Related Values under CAA Amendments; and the protection of night skies is identified under the 2001 NPS Management Policies. Although precious little research exists documenting the impact of light pollution on ecosystems and wildlife, there is enough study to be concerned about the long-term negative impact to nocturnal wildlife.
The NPS has been a leader in the field of protecting night skies. The NPS Night Sky Initiative has underscored the importance of this rapidly disappearing resource, the agency has been at the forefront of developing measurement methods, and the effort enjoys widespread public support and attention. In fiscal year 2005, funding has been designated to begin inventories of night skies at Wind Cave, Homestead, Devils Tower, and Jewel Cave. The objectives of this project are two-fold. First is to gather comprehensive baseline data on night sky brightness levels in and around the park. This will consist of photographs and datasets that will be combined to construct a baseline condition incorporating both light pollution and atmospheric interactions. The second objective is to develop a night sky resource plan that will include a long term monitoring strategy, a pool of data to reinforce management concerns, and outreach/education programs.
The timing of this project is critical. Development pressures at the boundary of the park necessitate immediate information. If we can capture the quality of the night sky now we can communicate this to the public and use it as a baseline to document (or prevent) future degradation.
Methods will follow those developed by the NPS Night Sky Team, and data collected will be directly comparable to the existing datasets that have already been collected at other parks. Funding for this project will be used to purchase a research grade CCD camera system, automated robotic mount, optics, and software, as well as personnel time to conduct the research. This will enable each of the parks to precisely measure night sky brightness, build a very complete baseline condition, and respond immediately to data gaps and development pressure.
This project will also bring important training and equipment to the local network of parks. Many of the region's parks share similar threats and resource conditions. Additionally, parks such as Custer State Park would benefit from a concentrated effort in the ecoregion. Data collected at other locations will provide a better understanding of the gradients of light pollution around the park and assist other parks in collecting data. A large portion of the project is dedicated toward sharing resources between parks. Because the scale of light pollution extends well over a hundred miles (much like air pollution), it makes sense to take a wider perspective.
Comments and feedback about Resource Ramblings are encouraged and can be made to Dan Foster, in person, or via email.