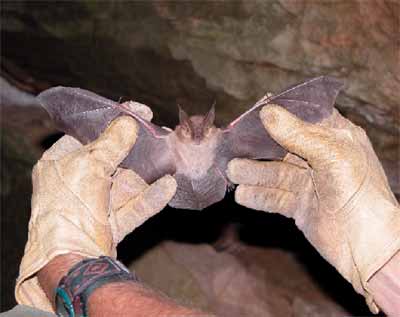 Wildlife of the night abound at Wind Cave National Park
As the summer season winds down, we thought you might be interested in some Park research begun in August. Mist nets were set up at five locations in the
Townsend's big-eared bat. Beaver Creek canyon, Reeve's Gulch, and at the Herp Pond within the park. The people conducting the research were Dr. Cheryl A. Schmidt, Shauna R. Marquardt and Dan Foster. Other people have helped as well. This is being completed for two purposes. First, as a part of the National Park Service Biological Inventory, we desired to document all of the species suspected of residing in, or utilizing the park. Second, we desire a better understanding of the effects of habitat manipulation, particularly through the use of fire, on bat population dynamics and their insect prey base.
The availability of areas for bats to hibernate, proximity to foraging areas, abundance of water sources, and an abundance of summer and maternity roost sites makes the Black Hills excellent habitat. A number of migratory species, such as silver-haired bats, are documented to use the Black Hills for summer activities, including maternity roosting. With this, the Black Hills represents an island ecosystem within the mixed- and short-grass prairie/pastureland matrix of western South Dakota and eastern Wyoming.