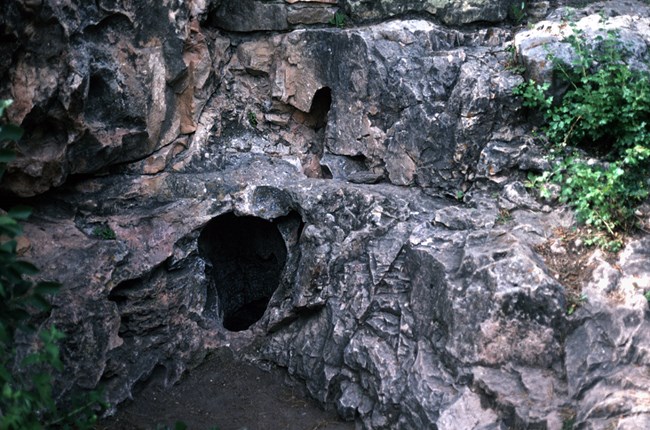 Man-Made Cave Openings
Artificial entrances to the cave caused the cave's climate to change by allowing increased airflow through the passages. The most dramatic effect of climate change was a rock fall at the walk-in entrance caused by freezing and thawing. To help control these changes, airlocks were built at all artificial entrances to restore the cave to more natural conditions.
Electric Lighting
Electric lighting in the cave also causes problems. It increases the temperature of the cave and encourages the growth of green plants. The growth of algae can be controlled by turning off the cave lights when no tours are in the cave or by killing it with a spray of weak chlorine bleach. The park recently replaced the wiring and lights in the cave. By using LED (light emitting diode) and compact fluorescent bulbs, the energy consumption related to cave tours was reduced and the new lights have less impact on the cave. At completion, nearly 1,100 LED fixtures were installed. This increased the number of fixtures by 500 lights but decreased our energy consumption by nearly 80%. The new system, designed and installed by park staff, uses light to create visually captivating scenes and highlights the features that the cave is world famous for - mainly boxwork and complexity.