Wildlife Management - Conservationists and Hunters Rally to Protect Wildlife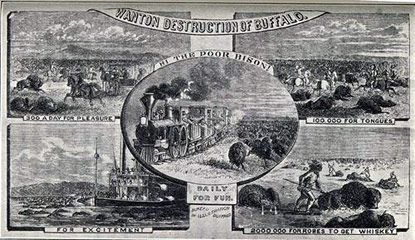 Recognizing the Problem
Late in the 1800s, the plight of the bison attracted the attention of conservationists and hunting organizations. They witnessed the extinction of many species such as the passenger pigeon and the eastern elk. They wanted to make certain that other animals would not follow the same path.
Taking Action
Organizations such as the American Bison Society and the Boone and Crockett Club began raising funds and seeking out lands where bison and other animals could be restored. In 1911, Wind Cave National Park and the surrounding area was selected as a place to start bison, elk, and pronghorn on the road to recovery.
A New Home
The rolling plains and ponderosa pine forest of Wind Cave National Park were superb habitats for prairie animals. The prairie, with its seemingly endless sea of grasses, was perfect for grazing. The forests provided shelter. The American Bison Society purchased lands adjoining the park and in 1912, a bill was passed in Congress creating the Wind Cave National Game Preserve.
Last updated: April 10, 2015