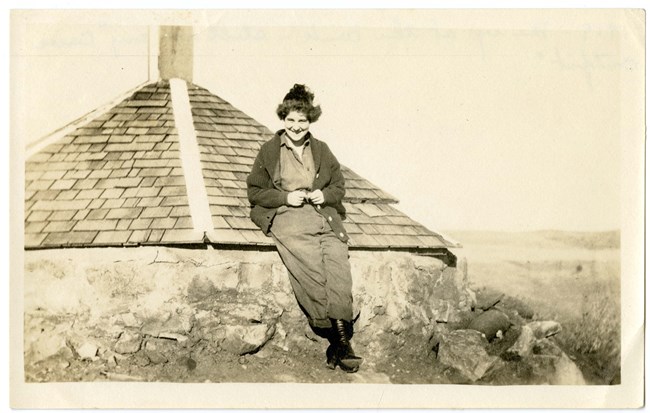 Meta Brazell, wife of Superintendent Roy Brazell also led cave tours in the 1910s and 20s. Meta was in the cave when they tried to get radio reception. The experiment was describe in John Bohi's Seventy-five Years at Wind Cave.
In September the cave entrance fee was raised from 25¢ to 50¢.
In October the following experiment occurred with the aid of some newfangled radio equipment:
After a heated argument yesterday morning between park ranger Snyder and O. F. Hill, Field Man for the Neutrosound Radio Manufacturing Co., and A. C. Williams, Sales Representa­tive of the Dakota Iron Store, of Sioux Falls, S. Dak., there followed a conclusive and unquestionable demonstration that radio reception was possible far in the interior of Wind Cave.
In the evening a party consisting of Mr. Hill, Mr. Williams, Roy Brazell, Supt. of Wind Cave National Park, Mrs. Brazell, and park rangers McCain and Snyder, carried the necessary apparata and paraphernalia into the Odd Fellows Hall, a large room one half a mile within the cave and easily 300 feet below the sur­face of the earth. In that underground atmosphere of crystal splendor and elegance the receiving set was assembled, a rude aerial stretched the length of the room, and soon a few mani­pulations of the tuning dials brought in station K. O. A., Denver, with remarkable clarity and with loud speaker volume. A score of other stations were heard, among them being W.C.C.O., W.R.R., and K.V.O.O., the Dallas, Texas station (W.R.R.) being the fartherest [sic] one from which audible reception was secured.
Buried in a huge limestone vault, that is classed as a dry cavern, many difficulties were experienced in "hooking up" the set and successfully "tuning it in". Wind Cave's smooth and dry trails are very gratifying to the visitor; but this pronounced absence of water, and with nothing but dry hard limestone above, below and at the sides, rendered the securing of a good "ground" impossible. The iron that causes so many of the cave's note­worthy scenic spots to scintillate with a dazzling rainbow crys­tal magnificence, was an obtrusive factor in radio reception, and helped more than a little to upset an otherwise perfect magnetic balance. And it seems that the honeycomb structure of the cave, presenting as it does a series of air cells, limestone walls and rooms and tunnels of gigantic magnitude and unknown numbers, must have offered much impedance to the oscillating radio waves as they pursued their course to the point where our alert was waiting to intercept them.
Several experiments were made with varying results. An effi­cient "ground" not being available, a counterpoise was tried. This, however, made no appreciable difference and was abandoned. Everything being hurriedly and crudely erected, the results se­cured were remarkable, and both Mr. Hill and Mr. Williams, who are great Neutrowound enthusiasts, could hardly decide whether the rapturous splendor of Wind Cave or the performance of their pet set was the more wonderful.
This is the second demonstration of such a nature. Last winter Superintendent Brazell's Radiola Super-Heterodyne, using an indoor loop, was employed for the test. It, as did the little six tube wonder last night, gratified it's owner and others of the party with the first subterranean radio concert recorded in this part of the country.