Sunrise Arts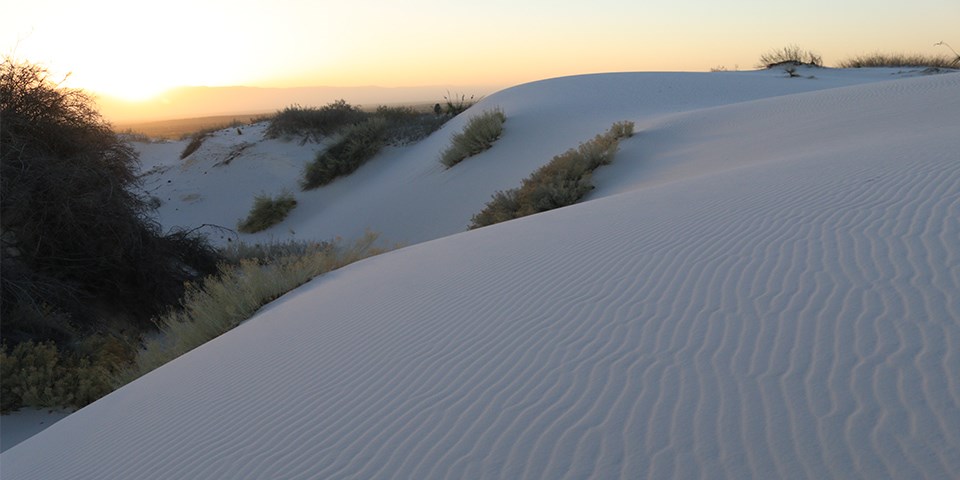 The dunefield is an artist's paradise, offering shifting shadows and textures in the early light. Join a ranger to see the first rays of the morning sun push over the Sacramento Mountains. This early, morning program is focused on artists of any kind. Whether you take photos, draw, or paint. The ranger will share tips on how to get the best view in the early morning light while allowing participants to capture amazing photos and create unforgettable memories on their camera, canvas, or paper.
When
Offered twice each year at 6:00 a.m. in March and October. *Schedule is subject to change. Activities may be cancelled.
2019 Sunrise Arts Schedule
Saturday, March 16 at 6:00 a.m.
Saturday, October 19 at 6:00 a.m.
Where
The program will be located in an area where all vehicles, including trailers and RV's, are permitted.
Pre-registered participants will meet the ranger at the monument entrance gate 20 minutes before the program begins. If your name is not on the ranger's list, you will not be allowed into the monument until the gates open at the normal opening time.
The gate will be closed and locked five minutes before the program begins. If you arrive once the gate is locked, you will not be able to participate in the program.
You will caravan in your personal vehicle from the gate to the program area.
Cost
Special program fees of $8 per person ages 16 and older and $4 per child ages 15 and younger apply. Federal passes such as the America the Beautiful Annual, Senior, and Access passes apply only to the entrance fees and not to the special program fee. Once the program is finished, if you choose to continue into the monument when it opens at 7:00 a.m., monument entrance fees will apply.
Reservations
Reservations are required for this program and must be made through Recreation.gov or by calling (1-877-444-6777). You can make reservations up to one month in advance of the program. Tour fees apply and will be charged by recreation.gov.
For reservations, please note that only one vehicle per reservation is permitted to due limited parking and only five people per reservation are permitted. The sunrise arts program is limited to 20 individuals.
Cancelations must be made by calling Recreation.gov at 1-877-444-6777 at least 24 hours in advance of program. Cancelations cannot be processed by monument staff.
Program length
Approximately two hours
Cameras and Support Equipment
Participants must supply their own camera and other equipment (tripod, batteries, etc.). No equipment will be provided by the monument. Bulky equipment is not recommended for this program. Rangers will not provide instruction on how to operate camera equipment.

Easels will not be supplied to those who choose to draw or paint.

For those choosing to paint you will be required to supply all your equipment including water and a drop cloth, to protect the Monument's resources.
Safety Information
Participants must stay with the group and be physically capable of walking a total no more than 1.5 miles (1.6 km) in the dunes. Be prepared for the cool morning temperatures. A winter hat, jacket, and gloves that allow you to operate your equipment are strongly recommended. Closed-toe shoes are required, and a flashlight is highly recommended.
Young Children
Due to moderate to difficult conditions (i.e., cold temperatures, rough trail) on this program, it is not recommended to bring young children and infants on the Sunrise Arts program. This trail is not stroller-accessible.
Fitness
There may be a moderate hike no more than 1.5 miles (1.6 km) long, up and over sand dunes. Participants will climb one or two gently sloping dunes during the program. Participants must stay with the group for the duration of the program and be physically capable of walking the entire distance. No one is permitted to leave the program early to return to the parking area by themselves.
Accessibility
The hike into the dunes is rated as moderate and is not wheelchair or stroller accessible. It is not recommended for those with impaired mobility or health concerns.
Service animals are allowed at all monument facilities open to the general public.
Restrooms
Restrooms located outside the visitor center will be available after the program. There are no toilets available at the program area in the dunes.
Seating
Seating is not available;however, you may sit on the ground/sand at any time during the program if you wish.
Pets
Pets are allowed as long as they are non-disruptive, on a leash no longer than six feet (2 m), and are under physical control at all times. Pets, like humans, should leave only footprints. Pick up after your pet(s) and Leave No Trace. Pets are not allowed in the visitor center.
Programs may be canceled due to weather or missile range activities
Weather at the monument can vary drastically and change quickly. The decision to cancel a program due to weather is rarely made more than 30 minutes before the program start time. Call the monument at 575-479-6124 ext. 236 if you would like to confirm that a program is still scheduled. If the program is canceled, it will not be re-scheduled.
Large groups
Reservations are limited. Please be considerate of other park visitors. Organized groups of five or more persons will need to make seperate five person reservations on recreation.gov.
Carpooling
Parking for programs is very limited. Please carpool with friends and family. If you plan to ride with friends and need to drive separate cars, please consider meeting at a location in Alamogordo and then driving to the monument together in one vehicle. Only one vehicle per reservation is allowed
Last updated: February 6, 2019