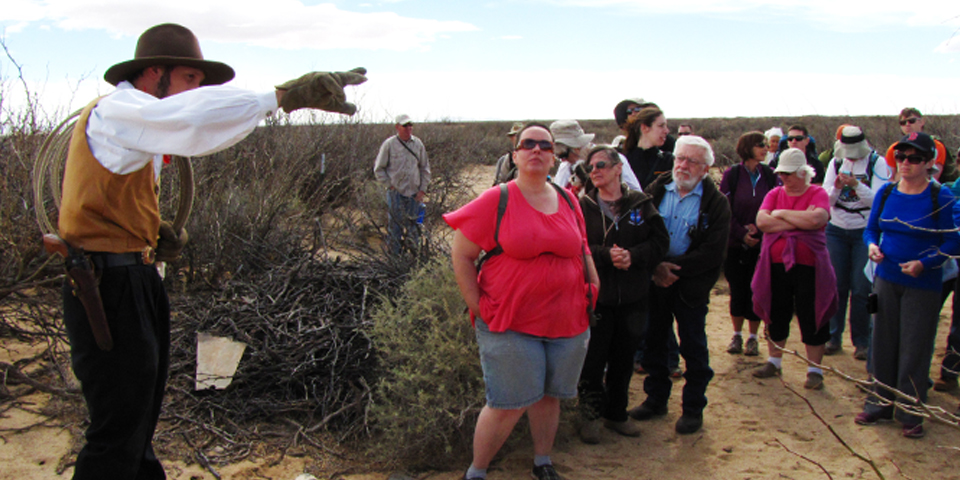 Did you know that salt was once mined in this area? Have you ever wondered about the architecture that you see in the visitor center? Or perhaps your interest lies in the amazing skills of American Indian artistry. Whatever your interest, come Step into the Past with us and learn about the Tularosa Basin's fascinating human history! Take a look beyond the bad men and the territorial conflicts as we explore some of the lesser-known aspects of the area's past.
When
Step into the Past programs are presented on the first Saturday of every other month throughout the year.
2016 Step into the Past Calendar
Reservations
Several Step into the Past programs require reservations. See program descriptions on the Step into the Past calendar for specific reservation information.
Where
Location varies depending on program.
Cost
Most programs are free; however, several require a special program fee.
Program length
Most Step into the Past programs are one hour; however, several programs are several hours in length.
Fitness
Some Step into the Past programs are offered in the visitor center with seating. However, several program may require walking on level surfaces or hiking more strenuous trails.
Accessibility
Depends on program location. See Step into the Past calendar for specific information. The visitor center is accessible. The Lake Lucero trail is not accessible for wheelchairs and may be challenging for individuals with mobility concerns. Service animals are allowed at all monument facilities open to the general public.
Restrooms
Depends on program location.
Seating
Most programs do not offer seating.
Pets
Pets are allowed as long as they are non-disruptive, on a leash no longer than six feet (2 m), and are under physical control at all times. Pets, like humans, should leave only footprints. Pick up after your pet(s) and Leave No Trace. Pets are not allowed in the visitor center or the courtyard.
Large groups
Most Step into the Past programs have limited capacity. Reservations are also limited.
Contact us
to inquire about a large group reservation.
Programs may be canceled due to weather or missile range activities.
Call the monument at 575-479-6124 ext. 236 the day before the program to confirm the program is still scheduled. Weather at the monument can vary drastically. The lead program ranger will make a decision to cancel or shorten the program due to weather no earlier than 30 minutes prior to the program start time. If the program is canceled, it will not be re-scheduled.