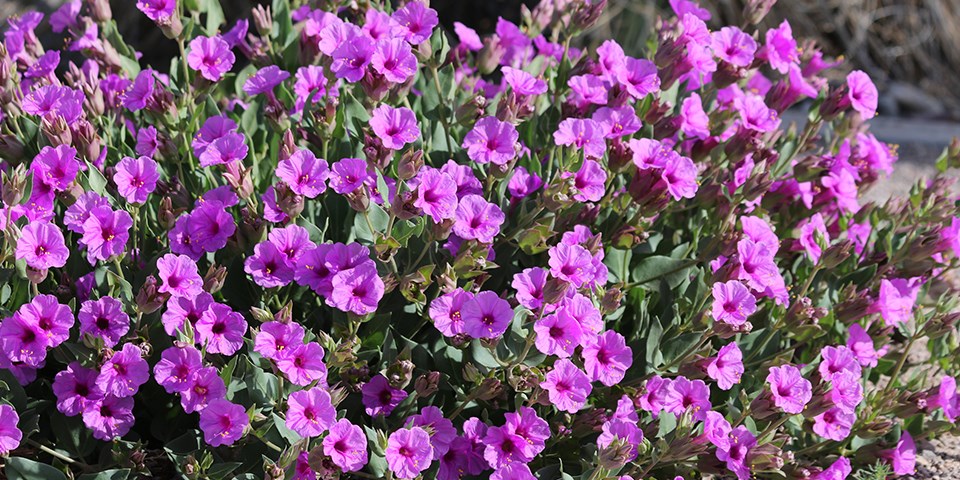 Although White Sands is located in the arid Chihuahuan desert, it is also a place of amazing life and diversity. Learn about some of the native plants of the Chihuahuan desert by taking a walking tour of our native plant garden located in front of the visitor center. This self-guided tour is free and available in brochure, field journal, and audio forms.
Ask at the visitor center to check out the Orphero guides for the audio tour of the native plant garden. Printed copies of the native plant garden guide are also available at the visitor center. You may also download these products and more below.
The best time for touring the native plant garden is from mid-March through late November. Many plants are dormant during the winter months. Most wildflowers begin blooming around the middle of April. The soaptree yucca is the star of the spring flowers and typically blooms in late April through May. Some plants may continue to bloom throughout the summer, such as the Colorado four o' clock. Many plants, including the ocotillo, burst into bloom after monsoon rains. Fall colors can begin to appear as early as October and last through November. This is the time when the Rio Grande cottonwood trees begin to turn a beautiful orange and the skunkbush sumac start to turn a vibrant red.
Additional information can be found in our
Desert in Color
and
Native Plants of the Northern Chihuahuan Desert
publications.