Full Moon Hike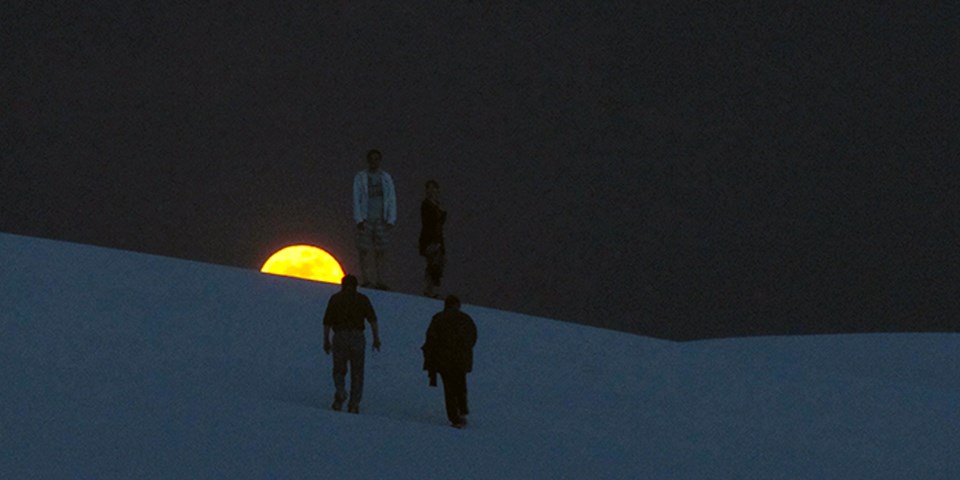 Have you ever wanted to hike the dunes under the magical glow of the full moon? This is your chance to enjoy the peace and serenity of this elusive environment and experience unique stories of the park. Full moon hikes are offered once a month, April through October, on the night before the full moon. Please see schedule below.
When
2021 Full Moon Hike schedule:
July 23 - 8:15 pm - Sold out
August 22 - 8:00 pm - Sold out
September 20 - 7:00 pm - Sold out
October 20 - 6:30 pm - Sold out
November 19 - 5:00 pm - Sold out
Tickets
All tickets for 2021 Full Moon Hikes have been sold out. Tickets are required for this program and must be purchased through Recreation.gov or by calling (1-877-444-6777). Tour fees apply and will be charged by recreation.gov. Park entrance fees also apply and will be charged at the park. There is no waitlist for sold-out tours; however, if tickets are canceled, they will be immediately available on Recreation.gov.
The full moon hike capacity is limited.
Cancellations must be made by calling or visiting Recreation.gov at least 24 hours in advance of program. Refunds will not be granted within 24 hours of the beginning of the program. Refunds cannot be processed by park staff.
Where
Pre-registered participants will meet the ranger at the Dune Life Nature Trail, a 2.3-mile (3.7 km) drive from the fee station, 30 minutes before the program begins. If your name is not on the ranger's list, you will not be allowed to participate in the program.
Tour check-in begins 30-minutes before program start time at the Dune Life Nature Trail. The hike will begin promptly at the stated start time. If you arrive after rangers have left the trailhead, you will not be able to join the hike.
Cost
In addition to the park entrance fees, a special program fee of $8 per person ages 16 and older and $4 per child ages 15 and younger also apply. Federal passes such as the America the Beautiful Annual, Senior, and Access passes apply only to the entrance fees and do not cover the special program fee. Park entrance fees and camping fees are non-refundable.
Program length
1.5 hours
Safety Information
Participants must be physically capable of walking a total of one mile (1.6 km) on sand, up and down sand dunes.
Children must stay close to parents. This is a night hike, and it is extremely easy to become lost once separated from the group.
Be prepared for varying temperatures and weather conditions. You may need a hat, jacket, and gloves. The temperature drops quickly as the sun goes down.
Closed-toe shoes are required.
One liter of water per person is recommended.
Flashlights, headlamps, and flash photography are not allowed. You may bring flashlights and headlamps with you, buit their use is not allowed except by permission of the park ranger.
.While photography is allowed and encouraged, no tripods or flash photography will be allowed. To preserve everyone's night vision and program experience, flashlights or headlamps are also not allowed.
COVID-19 Safety
We encourage all Full Moon Hike participants to maintain six feet of social distancing from other family groups and hike leaders. Park rangers will have extra masks available for use during the hike.
Young Children
Due to moderate to difficult conditions (i.e., darkness, rough trail) on this program, it is not recommended to bring young children and infants on the Full Moon Hike. This trail is not stroller-accessible.
Fitness
The Dune Life Nature Trail is rated as moderate. It requires hikers to climb multiple steep dunes and walk on soft sand. The trail starts down on the desert plain and is level for the first 300 yards before going up a steep slope onto the sand dunes. The trail is one mile (1.61 km) long. You must be able to hike the entire trail. The group must stay together for safety concerns. No one is permitted to leave the program early return to the parking area by themselves.
Accessibility
If you have night blindness or have a difficult time seeing outdoors at night, this hike is not recommended as flashlights and headlamps are not allowed. Due to the steepness of the slopes, this program is not wheelchair or stroller accessible.It is not recommended for those with impaired mobility or health concerns.
Service animals are allowed in all park facilities open to the general public.
Restrooms
Vault toilets are located at the trailhead area.
Seating
Seating is not available on the hike.
Pets
Pets are allowed as long as they are non-disruptive, on a leash no longer than six feet (2 m), and are under physical control at all times. Pets, like humans, should leave only footprints. Pick up after your pet(s) and Leave No Trace. Pets are not allowed in the visitor center.
Programs may be canceled due to public health conditions, weather or missile range activities
Weather at the park can vary drastically and change quickly. The decision to cancel a program due to weather is rarely made more than 30 minutes before the program start time. Call the park at 575-479-6124 ext. 236 if you would like to confirm that a program is still scheduled. If the program is canceled, it will not be re-scheduled. Park entrance fees and camping fees are non-refundable.
Large groups
Reservations are limited. Please be considerate of other park visitors.
Carpooling
Parking for programs is very limited. Please carpool with friends and family. If you plan to ride with friends and need to drive separate cars, please consider meeting at a location in Alamogordo and then driving to the park together in one vehicle. Only one vehicle per ticket is allowed.
Last updated: September 28, 2021