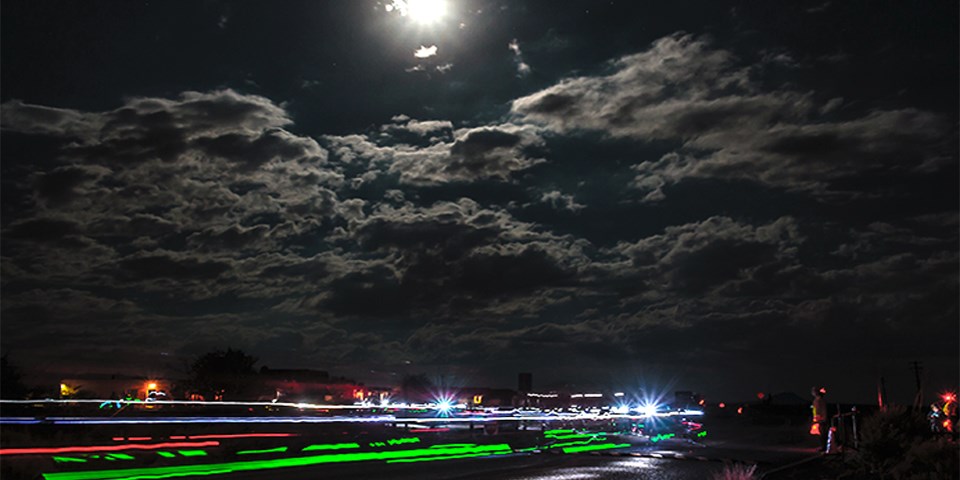 The full moon bike ride is a family-friendly event that allows visitors to enjoy a leisurely unguided bike ride along Dunes Drive under the light of a full moon. Twice a year, the monument opens at night for three hours to allow bike riders the opportunity to enjoy the beauty, peace, and serenity of the dunefield at night.For your safety and enjoyment, no private vehicles are allowed on Dunes Drive during the event.
When
Offered twice each year at 8:00 p.m. typically in April and October.
2017 Full Moon Bike Ride Schedule
Friday, October 6 at 8:30 p.m.
Where
Pre-registered participants park at the visitor center and start the ride from that location. The ride is along Dunes Drive.
Check-in starts one-hour before the ride start time. You must check-in with staff upon arrival and have your bikes inspected for mandatory safety equipment at a safety station. You will not be able to participate in the program if you arrive after the ride has started. See mandatory safety information below.
Cost
In addition to the monument entrance fees, a special program fee of $8 per person ages 16 and older and $4 per child ages 15 and younger also apply. Federal passes such as the America the Beautiful Annual, Senior, and Access passes apply only to the entrance fees and not to the special program fee. Monument entrance fees and camping fees are non-refundable.
Program length
Approximately three hours
Mandatory Safety Requirements
Participants will only be allowed to ride if they have the following required items:
Helmets

White headlights and

red

taillights on every bike
In addition to the above mandatory safety requirements, the following items are recommended for a safe and enjoyable ride:
Closed toe shoes to prevent injury during the ride.

Additional layers to keep you warm. The temperature will drop quickly once the sunset sets.
Bikes and Support Equipment
You must bring your own bikes, safety equipment, emergency repair kits, and spare tires. We do not rent bikes at the monument, nor do we have any of these supplies available.
Dunes Drive will frequently have a rough "washboard" surface, potholes, and sand drifts. These hazards make riding a bike on Dunes Drive challenging. As such, mountain and city/beach cruiser bikes with wide tires are recommended for the full moon bike ride. Road bikes with skinny street tires are not recommend on the sand-portion of Dunes Drive due to the above-listed hazards.
If you need to rent a bike, you can do so from:
Outdoor Adventures in Alamogordo (575) 434-1920

Outdoor Adventures in Las Cruces (575) 521-1922

High Altitude in Cloudcroft (575) 682-1229
Fitness
This is considered an easy to moderate bike ride depending on how far you ride. Dunes Drive is 16 miles (25.75 km) round trip; however, it is not required to ride the entire 16 miles. Participants should ride within their ability and turn around before they get tired. It is okay to ride one mile or 16 miles. This is a leisurely family-friendly unguided bike ride.
Accessibility
The roadway is relatively level with minor inclines and declines and several curves.
Service animals are allowed on the full moon bike ride as long as they are in a carrier that is securely attached to a bike.
Restrooms
Public restrooms are available at the visitor center. Vault toilets are located along Dunes Drive.
Seating
Seating is available outside the visitor center and in the various picnic areas within the monument.
Pets
Pets are allowed as long as they are non-disruptive and in a carrier that is securely attached to a bike. If the pet is removed from the carrier for a walk, it must be on a leash no longer than six feet (2 m) and under physical control at all times. Animals cannot run alongside a bike while the bike is in motion. Pets, like humans, should leave only footprints. Pick up after your pet and Leave No Trace. Pets are not allowed in the visitor center.
Programs may be canceled due to weather or missile range activities
Weather at the monument can vary drastically and change quickly. The decision to cancel a program due to weather is rarely made more than 30 minutes before the program start time. Call the monument at 575-479-6124 ext. 236 if you would like to confirm that a program is still scheduled. If the program is canceled, it will not be re-scheduled. Monument entrance fees and camping fees are non-refundable.
Reservations
Reservations are required for this program and must be made through Recreation.gov or by calling (1-877-444-6777). You can make reservations up to one month in advance of the program. Tour fees apply and will be charged by recreation.gov. Monument entrance fees also apply and will be charged at the monument.
For reservations, please note that only one vehicle per reservation is permitted to due limited parking. The full moon bike ride is limited to 230 participants.
Cancelations must be made by calling Recreation.gov at 1-877-444-6777 at least 24 hours in advance of program. Cancelations cannot be processed by monument staff.
Large groups
Reservations are limited. Please be considerate of other park visitors. Organized groups of five or more persons may contact the monument to inquire about a large group reservation. Due to staffing levels at the monument, not all groups may be accommodated.
Carpooling
Vehicle parking is extremely limited, and only 90 vehicles can be accommodated. Carpooling is highly encouraged to allow the maximum number of people a chance to enjoy this very popular event. If you plan to ride with friends and need to drive separate cars, please consider meeting at a location in Alamogordo and then driving to the monument together in one vehicle.Only one vehicle per reservation is allowed.