Commercial Filming and Photography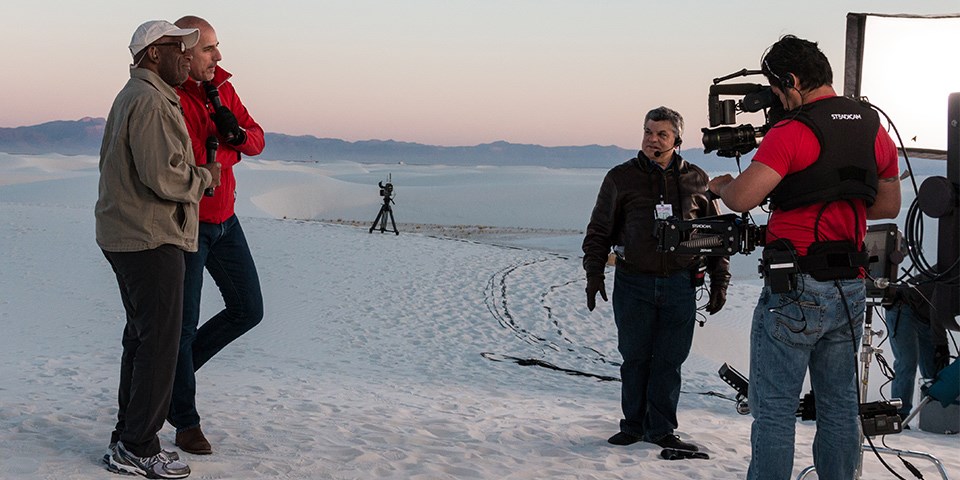 The bright white sand dunes of White Sands make a perfect backdrop for both commercial filming and photography. Throughout the years, many feature films, car commercials, fashion photography, and more have used the gypsum dunes as their setting.

In order to preserve and protect resources and to assure the enjoyment of those resources by the public, the following guidelines are established by the superintendent of White Sands National Park as they relate to filming and photographic activities within park boundaries. Please read our Commerical Filming and Photography FAQ brocure as well as the informaiton below to learn how to submit a permit.

Commercial Film and Photography permits are issued for photography, filming, and associated sound recording to ensure protection of resources, to prevent significant disruption of normal visitor uses, or when they involve props, models, professional crews and casts or set dressings. Permits are required for access to areas normally closed to the visiting public.
When Permits Are Not Required (in most cases)
Visitors using cameras and/or recording devices for their own personal use.
Sound technicians, and film or video news crews at breaking news events. In these cases, the superintendent will still be required to protect park resources and the rights and safety of park visitors. News media wishing access for entertainment or scheduled purposes may require a permit.
NPS filming or photography, Department of the Interior Audiovisual Center filming or filming/photography done pursuant to a cooperative agreement or contract.
A Request for a Permit May Be Denied If
In the opinion of the superintendent or his/her designee, the filming activity requested represents a potential for harm or impact on the park's natural, cultural, or recreational resources, may create health or safety risks, or disrupt visitor use and enjoyment.
It is determined that supervisory requirements for the proposed project will place unreasonable burdens on park staff, regardless of the applicant's willingness to pay supervisory costs.
The permittee fails to obtain insurance/bonding, or does not agree to pay assessed cost recovery.
The proposed filming or photography would conflict with the visitors' normal use of the park.
The request includes entry into areas closed to the general visiting public, or which would allow activities not permitted to the average visitor.
Processing Time
Due to the volume of commercial filming requests received by White Sands National Park, applications are handled in the order they are received. Priority will not be given to urgent requests nor will the park reply by express mail. Simple requests require a minimum of four weeks prior to the requested date. Requests that involve multiple locations, complex logistics, and coordination with other NPS divisions or visitor activities will require a minimum of six weeks or longer to process. A minimum of six weeks is also required to process permits for projects that need additional environmental compliance.
Applying for a Permit
A complete application packet must be submitted a minimum of four weeks prior to the requested date. Submission of the application packet does not guarantee a permit. Requests will be evaluated on the basis of the information in the application. The National Park Service cannot censor content, submission of script, and submission of storyboards is voluntary.

The application packet must include
Detailed production schedule and proposed locations
Detailed cast & crew list
Detailed equipment list
The required, non-refundable application fee of $200.00
Completed Commercial Filming and Photography application
Signed Basic Filming Conditions
To apply for a permit:
Complete the Commercial Filming and Photography application. In compliance with the requirements of the Debt Collection Improvement Act of 1996, the applicant must submit their social security number or Federal tax ID number when filling out the application.
Read and sign the General Permit Conditions.
Submit both the application and conditions along with the $200 application fee and any additional documentation (see list above) to the park using one of the following methods. Please bear in mind that any application received incomplete or without the application fee will not be processed.

Via FedEx:
Attn: Filming Coordinator
White Sands National Park
19955 Highway 70 West
Alamogordo, NM 88310
Via US Mail:
Attn: Filming Coordinator
White Sands National Park
PO Box 1086
Holloman AFB, NM 88330

Once the application packet has been received, it will be reviewed and you will be contacted to discuss the request. Any questions or concerns regarding the requested activity will be addressed before a permit will be issued. This will also include a review of staff availability, missile closures, and location availability.
A mandatory all-crew safety briefing will be scheduled to take place on or before the first day of the shoot. All crew and talent must be present for this briefing.
All costs of evaluating the request will be billed to the applicant, whether a permit is issued or not. As such, you will be provided with a breakdown of any additional fees associated with the permit, which can be paid either in advance or at the safety briefing (see below for a description of additional fees).
You will be asked to provide a copy of your Certificate of Professional Liability insurance.
Once the Certificate of Professional Liability Insurance has been received, the permit will be taken to the Chief Ranger and Superintendent for initial approval before being sent to you for your signature.
After you have signed and returned the approved permit, the Superintendent will sign the permit, finalizing the process. A copy of the finalized permit will be presented to you at the safety briefing.
Fees
Below is a list of the various fees that may be charged for a permit. Permits for student projects are eligible for a waiver for some of these fees as long as they provide documentation that it is part of a course requirement.
All payments must be in the form of a cashier's check, cash, or money order. Personal and company checks are not accepted.
Application Fee
There is a $200 non-refundable application fee. This payment is required and must be submitted along with the application. We will not review an application if this fee has not been received.
Location Fees
All projects will require payment of location fees, with the exception of student films. This amount is determined after the application is reviewed. Location fees are based on the complexity of the project.
Cost Recovery
All projects will incur some cost recovery fees. This amount is also determined according to the complexity of the project. This can include early entry or late close requests, livestock or animal use, monitoring, and more.
Additional Required Documents
Performance Bond
A performance bond is usually required of all crews. The bond is held by the park and will be returned to the project manager via FedEx after the project is completed as long as there are no unforeseen costs incurred or any damage to the resource.
Liability Insurance
All crews are required to provide a Certificate of Liability Insurance. Details on this will be provided after the application has been reviewed. The amount of this insurance will depend upon the nature of the requested activity but will be a minimum of $1,000,000 aggregate, $50,000 per occurrence. The certificate must also name the United States of America as co-insured. An example can be provided upon request.
Caterers
Crews choosing to use a caterer must provide a current valid Certificate of Health from the caterer.
All Crew Safety Briefing
All permittees are required to attend a mandatory one-time all-crew safety briefing and/or vehicle/equipment inspection before any filming or photography can begin. No exceptions.
If You Have Additional Questions...
If you have questions or would like to speak to someone regarding the possibility of doing a project in the park, please feel free to contact the Commercial Filming and Photography Coordinator at (575) 479-6124 ext. 222 or
email us
.
Last updated: January 3, 2020