Backcountry Camping
*** There is no backcountry camping on December 24 and 25, 2019. ***
White Sands National Monument offers the opportunity to backcountry camp among the glistening gypsum dunes and under the star-studded night sky. Backcountry camping in the monument is a truly an amazing and memorable experience.
The key to having a fun and exciting experience hiking and camping at the monument takes preparation and common sense. Deserts have unique hazards. Your safety is your responsibility.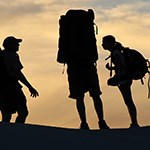 General Information
Backcountry camping requires hiking at least one mile (1.61 km) to a campsite and is the only type of camping permitted at White Sands National Monument. Car camping and RV camping is not allowed. Due to the hiking distance required those who are not prepared to pack in gear may want to consider other camping options in the area. The area camping brochure lists other area campgrounds and options.

A permit is required for backcountry camping and issued from 9:00 am to 5:00 pm at the Visitor Center.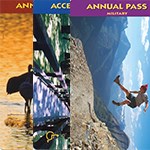 Fees
Campers are required to pay monument entrance fees as well as camping fees. The camping fee is $3.00 per person age 16 and older and $1.50 for anyone age 15 and under. There is a 50% discount on camping fees for holders of the Federal Access and Senior passes. This discount is only valid for the cardholder. It does not apply to other campers in the group. Fees are collected at the fee station (not the visitor center) at the beginning of Dunes Drive.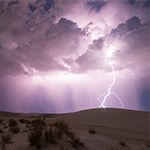 Weather
Be prepared for rapidly changing weather conditions. During the summer months, daytime temperatures can exceed 100°F (38°C) and drop to approximately 65°F (18°C) at night. It is recommended that you do not start a hike if the temperature is at or above 85°F (30°C).
During the summer, thunderstorms can move rapidly into the area. Tents will not protect you from lightning.
In winter, nighttime temperatures frequently drop below freezing. The daily temperature difference can vary from 30°F to 60°F (-1°C to 15°C), especially once the sun sets.
Spring is usually very windy. On very windy days, white-out conditions can result from blowing sand and dust.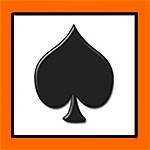 Finding Your Campsite
Orange trail markers with a spade symbol mark the backcountry camping trail. The wind can erase your footprints in a matter of minutes, and a GPS unit may be unreliable. Always follow trail markers to locate your site. If you cannot see the next marker, do not continue. Return to your car and report the missing tail markers to a ranger. A map is posted at the trailhead and on the back of your permit to assist you in locating your site.
Orange trail markers with a tent symbol and the site number mark the location of the campsites. Tents must be placed within five feet (1.52 m) of this marker. Camp only in your designated site and keep your permit with you at all times. For your safety, you must be in your campsite and set up by dark. Remember, it is easy to become disoriented in the dunes after dark.Don't stray far from your campsite. Have fun but be safe!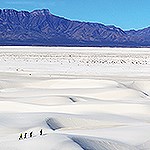 GPS Unreliability
Occasionally GPS signals can be unreliable in the monument. Please make sure to have an alternative form of navigation on you and don't solely rely on your GPS. Keep a map and compass on you and always look around for landmarks.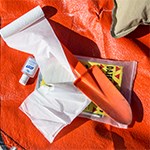 Personal Hygiene
There are no restroom facilities in the backcountry camping area. Consider using a human waste disposal bag to pack out human waste. Waste disposal bags lesson your impact on the dunes. If you do not have a human waste disposal bag, make sure you bury solid waste at least 100 feet (30 m) from the trail/campsite and, at least, three to six inches (7 cm - 15 cm) deep. Cover urine with a fresh layer of sand. Do not urinate on plants. All trash must be packed out, including toilet paper. Do not burn or bury trash. Dispose of all trash in the dumpsters located at the trailhead.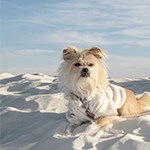 Pets
Pets are allowed as long as they are non-disruptive, on a leash no longer than six feet (2 m), and are under physical control at all times. Bring extra water for your pet. There is no water in the dunefield for humans or animals.
Pets, like humans, should leave only footprints. Pick up after your pet(s) and Leave No Trace.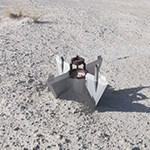 Unexploded Ordnance
We are surrounded by an active missile range. From time to time, debris from missile tests falls into the monument and is buried by sand. If you see any strange objects, do not touch them as they may still be able to detonate. Make a note of their location and tell a ranger so that appropriate personnel may remove the object in question.


Last updated: September 18, 2019