Backcountry Camping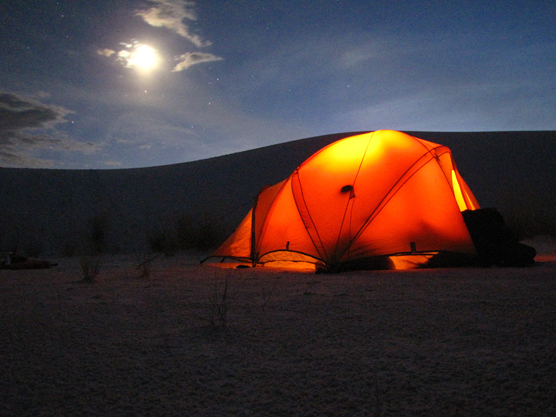 Backcountry Primitive Camping (Backpacking)
Spend a night under the twinkling stars of the vast New Mexico skies, surrounded by the world's largest gypsum dunefield. White Sands National Monument offers backpackers the opportunity to enjoy a night camping on the white sands and listening to the nocturnal activities of the animals that make their home here in this unique ecosystem.
Hiking the Backcountry Loop as a Hiking Trail
The Backcountry Loop is used most frequently by backpackers who want to spend a night under the stars in the dunes. However, it is also open to visitors that want a shorter hike through the heart of the dunes than the Alkali Flat trail. The trail is approximately 2.2 miles (3.5 km) round-trip and is a moderately strenuous hike up and down over the dunes. The average completion time for the trail is roughly 1.5 hours.
Reserving a Camp Site
There are ten primitive backcountry camping sites available on a first-come-first-served basis. Because of the possibility of closure due to missile testing on the adjacent missile range, we cannot allow advanced reservations.
Permits are available until specific times (see schedule below). To obtain a permit, simply go to the visitor center and ask at the front desk. The ranger there will assist you and a site will be assigned to you.
The campsites are accessible by hiking the backcountry trail and are located between 3/4 of a mile to 1.1 miles from the start of the trailhead. There are no water or toilet facilities at the campsites. Ground fires are not allowed but camp stoves that use containerized fuel are permitted. For more information, download our Backcountry Camping brochure.
Fees
Campers are required to pay monument entrance fees as well as camping fees. There is a 50% discount on camping fees for holders of the Access and Senior interagency passes. This discount is only valid for the cardholder. It does not apply to other campers in the group. Fees are collected at the entrance station (not at the visitor center) at the beginning of Dunes Drive.
Permit Cut-Off Times for 2016
Because it can be easy to get lost in the dunefield after dark, permits are only issued before the following times:
4:00 p.m. January 1 - 8

4:15 p.m. January 9 - 22

4:30 p.m. January 23 - February 5

4:45 p.m. February 6 - February 19

5:00 p.m. February 20 - March 12

6:15 p.m. March 13 - April 1

6:30 p.m. April 2 - April 22

6:45 p.m. April 23 - May 13

7:00 p.m. May 9 - August 7

6:45 p.m. August 8 - August 21

6:30 p.m. August 22 - September 4

6:15 p.m. September 5 - September 18

6:00 p.m. September 19 - September 25

5:45 p.m. September 26 - October 9

5:30 p.m. October 10 - October 23

5:15 p.m. October 24 - November 5

4:00 p.m. November 6 - January 6, 2017
Safety
Your safety is our primary concern. Always have at least a gallon of water per person when you are hiking or camping in the dunes. Water containers can be filled at the visitor center. The trail is well marked. Follow the markers to your campsite. We recommend that you try to be in your campsite before sunset, as it is very easy to get lost on the trail after dark. Please remember to carry out all trash.
For more tips on staying safe in the desert, visit our Safety page or download our Desert Safety brochure.